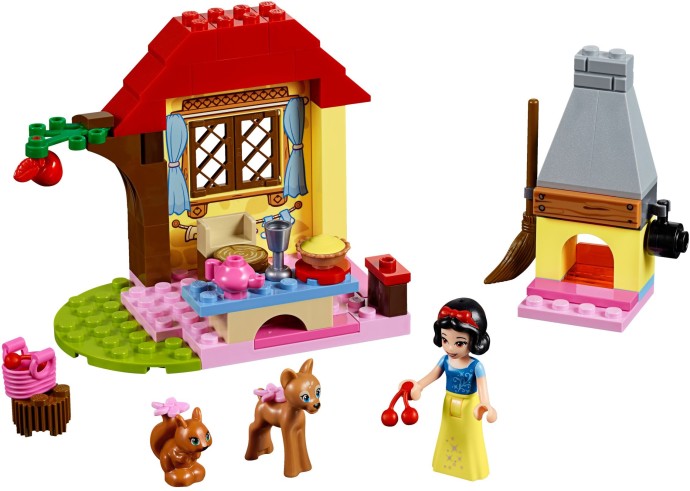 Welcome to Snow White's Forest Cottage
Explore the magical world of Disney's classic fairy tales with LEGO® Juniors' enchanting playset, Snow White's Forest Cottage (Set Number: 10738). This charming set is the perfect opportunity to weave tales of adventure, friendship and hidden treasures deep in the enchanted forest.
The Perfect Lego Set For Young Builders
Released in August 2017 as part of LEGO's Juniors range, this captivating set has been created specifically for kids aged 4-7 years. Encompassing a total of 67 pieces, the set offers a balance of simplicity and complexity to ignite creativity and help youngsters develop fine motor skills while having fun. It's not just about building; it's about creating unforgettable stories revolving around the beloved character – Snow White.
Welcome To The Magical Abode
Dive into an imaginative play world featuring Snow White's quaint little forest cottage. A true miniature wonderland, complete with an oven and chimney that opens and closes, and a delightful tree bursting with juicy fruits ready for picking. The cottage itself sits snug at the measurements of approximately 3" high, 3" wide and 2" deep.
Tea Parties and Treats
No cosy cottage is complete without some tasty treats! Recreate Snow White's tea parties as she serves fresh 'tea' from a tiny teapot into dainty cups or whips up delicious pies ready to be taken out from the oven. All these details including accessory elements like a broom, kettle, red apple, two berries, and basket further add depth and intricacy to your child's role-playing scenarios.
Friends From The Forest
The charming mini-doll figure of Snow White does not live alone in her lovely abode. She has two companions — an adorable deer and a lively chipmunk figure who fill her surroundings with joy and giggles. Together they create adventurous tales waiting to be narrated by your child.
Building Confidence In Novice Builders
In line with the philosophy of the LEGO® Juniors theme, every aspect of this delightful set is designed with a focus on young builders. The models are easy to build but still offer plenty of charm and detail. Larger pieces coupled with the helpful simple guide make construction enjoyable and confidence-boosting for little hands.
Treasured Memories With A Timeless Tale
Snow White's Forest Cottage retire in July 2018 but its memories live on in children's imaginations even today. It's not just another LEGO® product but rather a colourful palette where every child can paint their own tale using classic fairy tale characters as inspiration. Its layer adds charm, captures innocence and engages kids in hours of engrossing fantasy play!