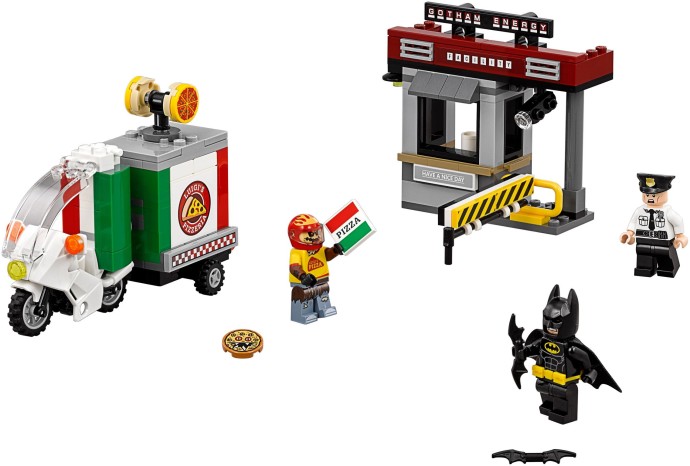 The LEGO Batman Movie
Theme
Unleashing The LEGO Batman Movie's Adventure with Set 70910 – Scarecrow Special Delivery
Immerse yourself in an exciting superhero universe brimming with action, created by the iconic and imaginative world of LEGO. The LEGO Batman Movie features a thrilling narrative that involves some iconic characters from Gotham City, including Batman and Scarecrow. Heed the call of adventure with the exciting set 70910, titled 'Scarecrow Special Delivery.' Launched in 2017, this fantastic set beckons LEGO enthusiasts and Batman aficionados alike.
Your Mission: Guard the Gotham City Energy Facility
This spellbinding playset is inspired by an unforgettable scene in the dynamic LEGO Batman Movie. It tasks the players to defend an energy facility against the wicked villain, Scarecrow, who is on a malevolent mission to unleash fear gas in Gotham City. Let your creativity take flight as you maneuver through obstacles and battle nefarious plans on your quest to safeguard the city.
Enter the Arena: Content of the Box
The Scarecrow Special Delivery assemble set proves small packages do hold large surprises. It boasts 204 delightful Lego pieces, each crafted with precision to give players a chance to remodel their thrilling adventure repeatedly. As an idiosyncratic gift or a treasured personal purchase, every piece contributes substantially to constructing a captivating storyline.
Create Your Epic Battle: Features of the Set
An intricate mosaic of movie-inspired components awaits inside this special package. There's Scarecrow's mischievous pizza delivery bike that doubles as a mobile fear gas station. A surprise attack comes by rotating the seemingly innocuous pizza sign atop the bike, revealing toxic fear gas canisters ready for deployment!
The setup also includes a security booth – ironically a vulnerable target for chaos. The booth's barrier is designed to spectacularly 'explode' upon contact with Scarecrow's bike – initiating an exhilarating cycle of cat-and-mouse.
Your Heroes and Nemesis: A Trio of Minifigs
Certifying its claim on being special, this set endows you with three meticulously detailed minifigs – our masked vigilante Batman, villainous Scarecrow, and a brave security guard. Each character comes replete with emblematic accessories – from Batman's quintessential Batarangs to Scarecrow's pizza box – kickstarting your recreations or imaginings of exhilarating lego superhero battles!
A Trove Of Engaging Details
This set benefits from LEGO's exceptional attention to detail that augments its allure and enriches playtime narratives multifold. Security signage, translucent elements mimicking lights, and universally loved (and yet sneaky!) pizza are just a few details elevating your entertainment quotient meteorically!
Fulfilling its role as both an educational tool and recreational resource brilliantly, the Scarecrow Special Delivery set offers boundless fun while honing motor skills and encouraging positive social interactions for ages seven & above.
Combine For A Broader Adventure
To ensure unending action, you can connect this set with other compatible builds like The Joker Balloon Escape (70900) and Mr. Freeze Ice Attack (70901), resulting in a grander power station setup – multiplying thrill levels manifold!
A Final Word
The Lego Set 70910 "Scarecrow Special Delivery" is undoubtedly worth every penny thanks to its interactive build process, immersive features, charming characters and stimulating narrative! Whether bought as an engaging toy for kids or as an addition to a collector's vault – it directs everyone towards fascinating dramatic scenarios promising suspenseful adventures at every turn!