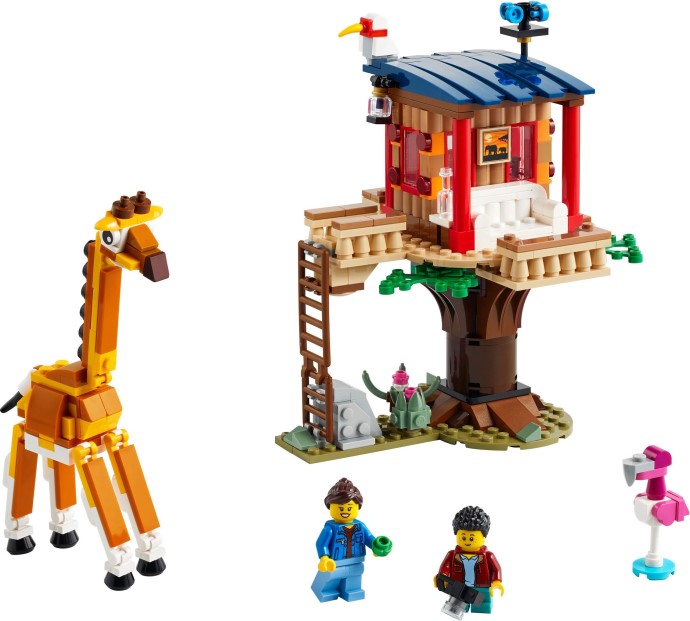 An Exciting Expedition Awaits with the Safari Wildlife Tree House
The LEGO® Creator 3 in 1 series has consistently delighted children of all ages by fueling their imaginations and stirring their sense of adventure. The latest addition to this celebrated line is the versatile and thrilling Safari Wildlife Tree House (31116) set. Launched in March 2021, and designed by the talented George Gilliatt, this multifaceted toy promises countless hours of joy and genuine safari excitement right at your fingertips.
Embrace the Wonder of the Wild
Journey to a spectacular African savanna without leaving your living room. The Safari Wildlife Tree House enthralls with a meticulously designed tree house, complete with a balcony, ladder, functional toilet, and sink. With an intricate interior that replicates real-life details, this captivating assembly is just perfect for mini role-play adventures.
Adding to the alluring charm are two delightful minifigures – a boy and girl equipped with a camera accessory to ensure your safari journey is well-documented! What's more? This tour does not end here. The set also includes three charming brick-built animals – a towering giraffe, a flamboyant flamingo, and an exotic hornbill, bringing the essence of wildlife closer to home.
Thrilling Threefold Fun
The distinguishing factor about the LEGO® Creator 3 in 1 sets is – you guessed it – three times the fun! Kids can reconstruct the Safari Wildlife Tree House into two other adventurous builds – a robust biplane accompanied by a brave lion or a sleek catamaran sailing with a colossal crocodile. The flexibility of these interchangeable models ensures that your creative journeys are as boundless as your imagination. The options truly are endless.
Crafting Adventures One Brick at a Time
This magnificent set consists of 397 pieces carefully crafted to captivate young builders who are seven years and up. Its stimulating complexity paired with engaging fun make it an ideal gift for special occasions, certain to bring on happy faces and busy hands!
Apart from its obvious entertainment value, children can also learn valuable skills like problem-solving, coordination, and concentration while building the Safari Wildlife Tree House. You get to embark on thrilling adventures all while cultivating cognitive skills; it's educational play at its best.
A Display Worthy Creation
Measuring over 7 inches high, 4 inches deep, and wide alike, once constructed this LEGO® marvel becomes an impressive structure any child would be proud to display in their bedroom or playroom. The effortless combination of playtime significance and aesthetic appeal makes this set a highly sought-after item among aspiring builders.
A Heritage of Superiority
With over sixty years of exceptional toy-making legacy behind them, LEGO® stands as an unrivaled champion in creating premium quality playthings that both amuse and educate. Their commitment to producing sturdy bricks that perfectly connect every time is celebrated worldwide.
Their adherence to stringent global safety standards ensures your children can indulge in endless imaginative play without any worries. So join us on this enchanting safari ride leading straight into a world brimming with fun-filled tales and even more vibrant creatures with the Safari Wildlife Tree House!