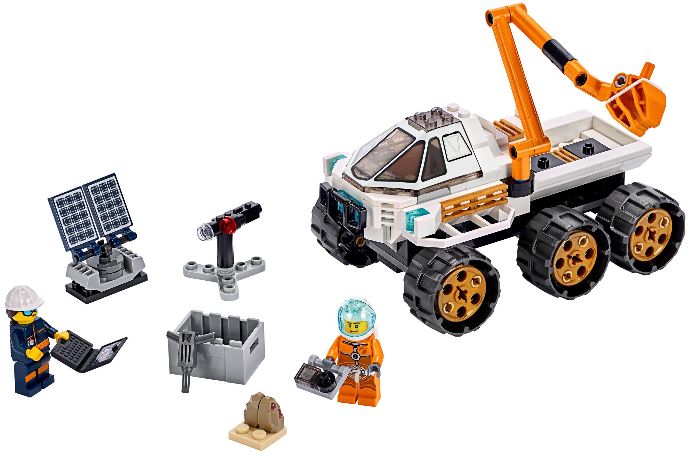 Rover Testing Drive: A Cosmic Adventure Awaits!
As part of their exciting City range, LEGO® unveiled a set that sparked the interest of young space enthusiasts and inspired budding astronauts. This was none other than the "Rover Testing Drive", a set derived from the Mars Exploration subtheme. Made available from June 2019, until its retirement at the end of 2020, this captivating toy offered immersive play for those aged 5 and above.
A Detailed Discovery
The Rover Testing Drive, with product number 60225, is more than just your standard LEGO® construct—it's a space exploration experience that kids simply can't get enough of. This impressive set constituted of 202 distinct pieces was affordable too, setting parents back by just £17.99 or $29.99.
Not only was it cost-effective and educational, but it was also a neat little size. Weighing in at 0.36Kg (0.8 lb) and easily fitting onto any shelf with its dimensions of 26 x 18.9 x 6 cm, this set integrated impeccably into any collection.
Experience Astronomical Adventures
The Rover Testing Drive is packed full of galactic treasures that mimic a real-life NASA-inspired rover set. It includes an intricately designed rover vehicle with a removable cockpit for the astronaut minifigure to sit in – controlling the quest towards cosmic explorations.
User interactivity is taken a notch higher with the articulated grappling arm that is designed to be maneuvered by the ground crew technician minifigure—the other valuable inclusion in this set-
An Array Of Superior Accessories
This fabulous space-themed construction set is loaded with an array of superior accessories, each aiming to amplify the fun factor of this galactic game. Noteworthy among these are two new-for-June-2019 geodes which form a crucial part of any Mars Exploration mission.
To add more realism to the play scenarios, there are additional elements such as a laptop for seamless control, a remote control to guide the rover, a rock drill to explore Mars terrains, and a video camera for documentation.
Directions For Precise Assembly
To provide guidance for assembley LEGO® included instructions within its LEGO Life app called Instructions PLUS. This application's interactive guide facilitates even younger ones to seamlessly organize all parts into a fantastic Space Rover – building their self-confidence and sense of achievement.
Final Thoughts
Moulding imaginative play into an exuberant learning experience is what the Rover Testing Drive does best! A perfect gift for the budding astronauts in your life, this out-of-the-world playtime companion brings joy beyond Earth's boundaries—igniting dreams and inspirations that are fiercer than rocket propellers!