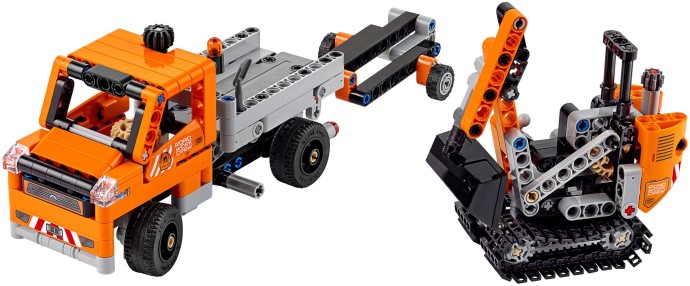 The Exciting Technic Roadwork Crew Lego Set
Aiming to recreate the indefatigable spirit of a bustling construction site, Lego introduces its dynamic Technic Roadwork Crew set (SET_NUMBER: 42060). Embracing the traditional Lego boldness with a classic orange, gray and black color palette, this set is all about details and functionality. It was officially released in 2017, following a launch on November 27, 2016.
A Bundle of Creativity
What if you could play with more than just one vehicle model in a Lego set? Well, that's exactly what the Roadwork Crew set brings to your collection. The set overflows with captivating interactive features. Packed with 365 pieces, builders will have fun interacting with a construction truck complete with working steering capabilities, a tipping flatbed and a removable trailer. Additionally, it boasts of a tracked digger that comes complete with an operational boom and bucket and a fascinating rotating superstructure.
A Double Build-and-play Experience
With an age range suitable for 8 to 14-year-olds, the Technic Roadwork Crew opens up an immersive construction experience as each model can be reassemble into something entirely new. After the build time fun, switch things up by converting your models into a Mini Gritter with Plow. This impressive two-in-one functionality offers users endless hours of playtime and fosters a hands-on learning approach on mechanics and engineering principles.
Premium Building Promise
Like all Lego sets, the Roadwork Crew is designed in accordance with Lego's premium building promise underlining its compatibility with other Lego construction sets for creative build-ups. This paves the way for more stimulating brick-building sessions. Additionally, bundled in this extraordinary set is a specially adorned 40th LEGO® Technic Anniversary brick that will surely excite avid collectors.
Dimensions and Aesthetics
The meticulously crafted Truck and Trailer boast measurements of 3 inches in height, 10 inches in length and an admirable width of 2 inches. On the other hand, The Tracked Digger does not fall short either measuring up at three inches high, three inches long and one inch wide with the boom lowered.
Budget-Friendly Fun
The Roadwork Crew set is valued at an affordable £19.99/ $29.99 /19.99 €. This is great news when considering it boils down to an enjoyable price per piece ratio of around 5.5p / 8.2c / 5.5c making it economically friendly for parents seeking budget-conscious ways to surprise their young ones while still offering engaging play experiences.
Conclusion
All in all, the LEGO Technic Roadwork Crew Set promises an involving build journey combined with educational significance on construction machinery functions — it undeniably puts 'fun' at the heart of learning! Lastly, be sure to download instructions and take on the exciting challenge of creating exclusive LEGO® Fidget Spinners from this detailed building kit.