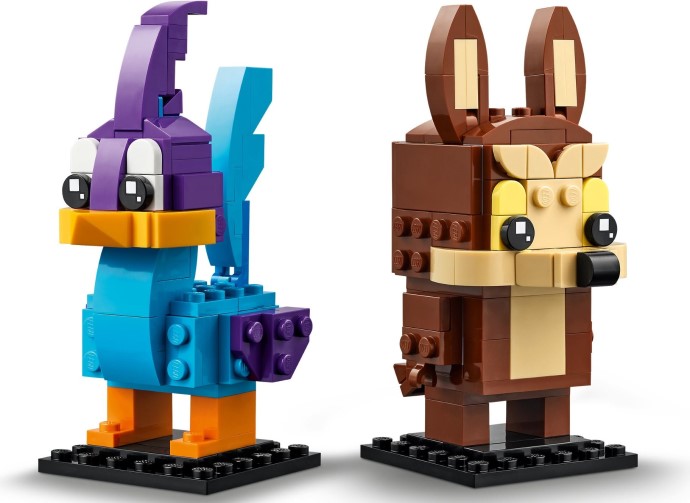 Dive intonostalgic fun with the Road Runner & Wile E. Coyote LEGO® set
Prepare to take a trip down memory lane with the LEGO® BrickHeadz™ Road Runner & Wile E. Coyote set (40559)! Launched in part of Looney Tunes' subtheme early February 2022, it stands proudly as one of the year's most whimsical sets promising fun construction and hilarious escapades.
Designer Masterpiece
From the imaginative table of designer Dan Squirrell, the 205-piece set beautifully captures the essence of these popular Looney Tunes characters – all in classic LEGO® BrickHeadz™ style! Children and adults alike will be delighted to find that this model retains a charming façade that reflects its golden-era cartoon roots.
A Pivotal Addition to your Collection
Bursting with striking colors and lovable, brick-built figures, this set pops on any collector's shelf or display case. It's also an invigorating challenge for builders aged 10 and above. Aside from its vibrant aesthetics, every piece tells a nostalgic tale that cartoon enthusiasts would appreciate. It's truly an iconic addition to any Looney Tunes aficionado's collection!
Price and Value for Money
This carefully crafted set is available at a Recommended Retail Price (RRP) of £17.99 / $19.99 / 19.99€ which is a testament to both quality and affordability. The unique experience this set offers, combined with its reasonable price-per-piece ratio of 8.8p / 9.8c / 9.8c, makes it a compelling purchase for dedicated builders and fans alike.
A Memorable Build
The Road Runner & Wile E. Coyote set is a joy to assemble, brimming with unique pieces that make the models come alive. Accompanied by detailed step-by-step instructions and equipped with convenient baseplates for display, every assembly session turns into an engaging narrative of the humorous antics between these iconic characters.
The Perfect Gift for Any Occasion
Whether it's an unexpected surprise or a thoughtfully chosen birthday present, this captivating LEGO® BrickHeadz™ set perfectly caters to fans' sentimental fondness for iconic cartoon characters. Endless hijinks await the lucky recipient, making it a unique treat indeed.
All good things must come to an end; this whimsical trip down memory lane retires on December 31st, 2022 – so be sure to chase down these wacky friends before they dash away!