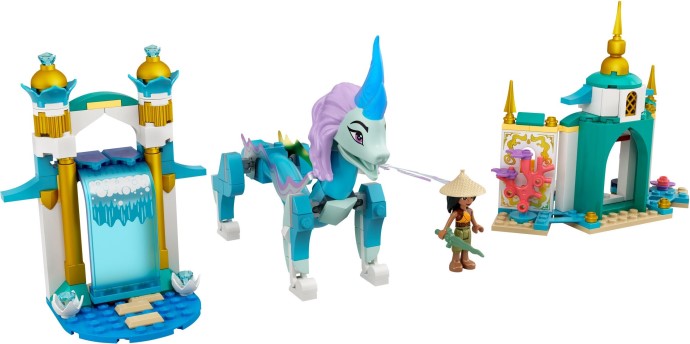 Unleash Imaginations with LEGO® ǀ Disney Raya and Sisu Dragon Set
A magical blend of creativity, adventure, and Disney comes to life in the new LEGO® ǀ Disney Raya and Sisu Dragon (43184) set. This fantastic collection not only recreates the thrill of Disney's Raya and the Last Dragon movie but also empowers children aged 6 and above to create their own adventurous tales.
Mysterious and Exciting Build
The appeal of the Raya and Sisu Dragon set lies in its combinatory elements of mystery and excitement. Featuring two versatile builds, it facilitates endless imaginative play inspired by the movie scenes or birthed from the young builders' minds. The central piece de resistance is a finely detailed palace gate featuring a concealed room for precious treasures and an enchanting waterfall that conceals its own secrets only revealing them at the turn of an adventure.
Immerse Yourself in A Disney Adventure
Boredom stands no chance against the captivating world of Disney's Raya and The Last Dragon. This remarkable Lego set brings your favourite Disney characters, Raya, and the majestic Sisu Dragon to life, as well-crafted mini Lego figures. Each vibrant detail on Sisu is designed to be assembled over and over again, guaranteeing countless hours spent in a world of fantasy quests and dragon filled adventures.
Boost Your Building Skills
No miniature builder should be left feeling lost! The Raya and Sisu Dragon set doesn't merely comprise a detailed, printed instruction manual; it offers an intuitive digital companion via the LEGO® Building Instructions app. Serving as expert guides for even those at the start of their master building journeys, these instructions facilitate visualization, stimulate thinking processes, and instill confidence in young creators.
Create Your Ultimate Heart Palace
Add an enchanting twist to your adventure by connecting this set with the LEGO® ǀ Disney Raya and the Heart Palace (43181). An array of new storyline possibilities will unveil themselves when these two sets come together to construct the grand Heart Palace – a royal home built for thrilling escapades.
A Unique Any-Day Gift
Suitable for kids aged 6 years and up, this buildable toy makes for an unusual surprise that's sure to intrigue every playmate on the playground. But why stop here? Unlimit your creative horizons by mixing this novel set with other LEGO® ǀ Disney collections. You never know what truly unique storylines might spring from such combinatory play.
A Standard Above the Rest
Trust is inherent in every LEGO® component. Having been rigorously tested for everything from heat resistance to being twisted or dropped – stringent industry standards aren't a joke at LEGO. You can be confident in your purchase knowing that every piece of your new set will connect safely and reliable – just like they've been doing since 1958!
In conclusion, let your kids fulfil their master-builder dreams while diving into an ocean of fantasy-adventure with this fantastic LEGO®ǀDisney Raya And Sisu Dragon (43184) set!