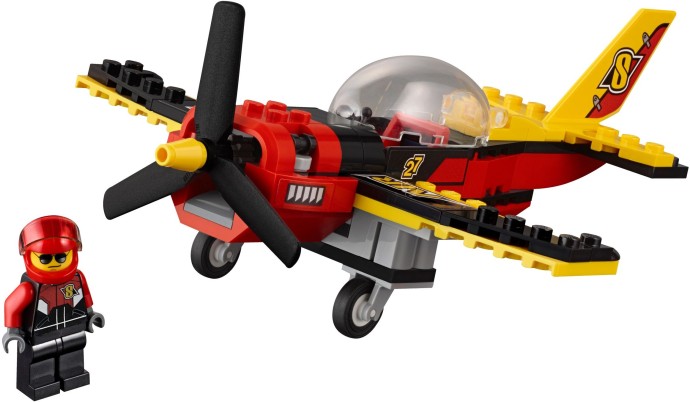 Experience Thrilling Sky Adventures with LEGO® City's Race Plane
Get ready to soar high into the skyline and overshoot your imagination with the LEGO® City Race Plane! This exciting set, launched on November 27, 2016, makes a great addition to any LEGO® lover's collection. Hailed from the vibrant City theme's Racing subtheme, the set is designed to bring adrenaline rush right into your playroom. Measuring approximately 6.2 x 5.6 x 2.4 inches (15.7 x 14.1 x 6.1 cm), this thrilling aircraft simulation not only sparks creativity but also improves cognitive skills among children aged 5 to 12 years.
An Affordable Gateway to Aeronautical Adventures
With an RRP of £7.99 / $9.99 / 9.99€, you get a customizable and intuitive making for a highly cost-effective and enjoyable learning experience for your child. The inexpensive set, which consists of 89 pieces costing around 9p /11.2c per piece, allows young builders to construct their miniature aircraft while honing their architectural prowess.
Intuitive Design & Engaging Aesthetics
The LEGO® City Race Plane, weighing a mere 0.39 lbs (0.18 Kg), boasts an ingenious design featuring an opening cockpit coupled with landing gear that adds onto its structural precision. The interactive spinning propeller stimulates an actual flying experience fancied by both young pilots and aeronautics admirers alike.
A Pure Portrayal of High-Flying Action
Aboard the plane is a minifigure pilot ready to navigate through the cloud-filled skies. The openable cockpit adds a surreal touch, ensuring an authentic in-flight experience for the miniature pilot that will truly enthrall your child.
Elevate Playtime with Multi-Dimensional Building
The LEGO® City Race Plane standing at over 3" high, spreads 7" long extending its wingspan to about 5". This adventure-packed set encourages young builders to explore their potential as they shape their very own aerodynamic replica model from scratch, thereby nurturing technical skills and boosting confidence.
Conclusion: The Sky's Not the Limit!
Packaged within compact dimensions but rich in functionality, the Lego City Race Plane sets new heights in imaginative aerial escapade offering children an opportunity to advance their inventive thinking and mechanical prowess while remaining thoroughly engaged in hours of constructive amusement.