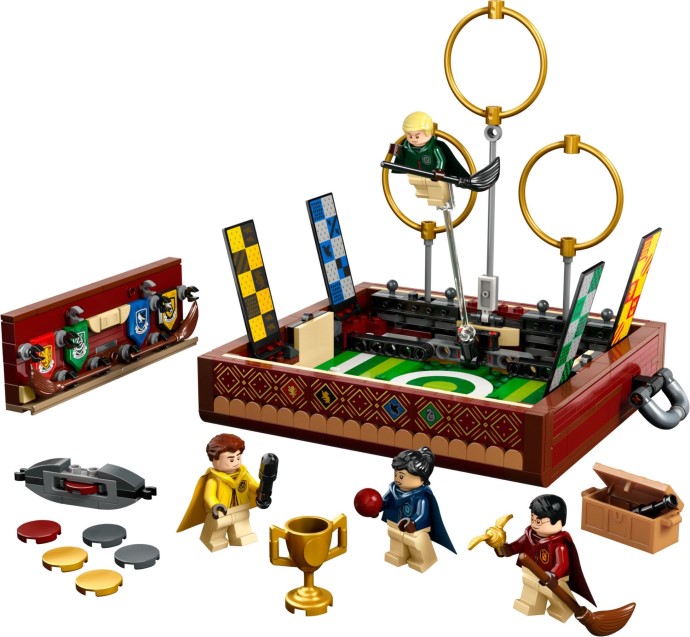 The Exciting LEGO® Harry Potter™ Quidditch Trunk
Step into the magical wizarding world of Harry Potter with an all-new LEGO® set, the 76416 Quidditch Trunk. Packed full of enchanting elements and detailed miniatures, this captivating set gives you the complete experience of the thrill-packed sport Quidditch.
Immersive Play with a Harry Potter Twist
The 76416 Quidditch Trunk set allows youngsters to recreate and role-play exciting Hogwarts Quidditch matches straight from J.K. Rowling's beloved series. With a generous arrangement of 599 pieces, this set outlines a fun-filled assembly journey that opens to a charm-infused world. It comprises of a detailed Quidditch playing field adorned with Hogwarts house banners along with other essentials required for taking part in an exhilarating solo or dual-player match.
Customize your Magical Minifigures!
Your favourite characters from the Harry Potter series come to life in this engaging LEGO® build. The package includes minifigures of Harry Potter, Draco Malfoy, Cedric Diggory, and Cho Chang. However, the realm of customization doesn't just end here! To make characters as unique as their builders, the set also makes available 10 additional heads in varied skin tones along with another 10 hats for styling.
Multifaceted Gameplay in a Compact Kit
No detail is too small or overlooked in this set! Ensuring diverse gameplay, it includes various gear for arranging three different types of Quidditch games. Test your skill by shooting the Quaffle through goal hoops, launch bludgers at the beater and try catching the elusive Golden Snitch. Once you've declared the victorious team and awarded the house cup, everything fits neatly back into the compact trunk, ready to accompany kids on their magical adventures wherever they go.
A Unique Building Experience
Leaning heavily into tech integration, LEGO® offers an interactive building journey for young witches and wizards via the LEGO Builder app. Utilizing this application, they can view models in 3D, zooming in to check details or rotating to have a complete look at their creations. Besides making it easier for them to save sets and track progress on ongoing projects.
In Summary
The Quidditch Trunk (76416) is yet another demonstration of LEGO® affirming its commitment to creating high-quality interactive building sets that not only provide hours of fun but also enhance creativity. This is more than just another toy; it's an avenue for children to explore an enchanted realm while honing valuable skills like concentration and fine motor abilities. When it comes to ensuring safety without compromising playability and authenticity, you can always rely on LEGO®.