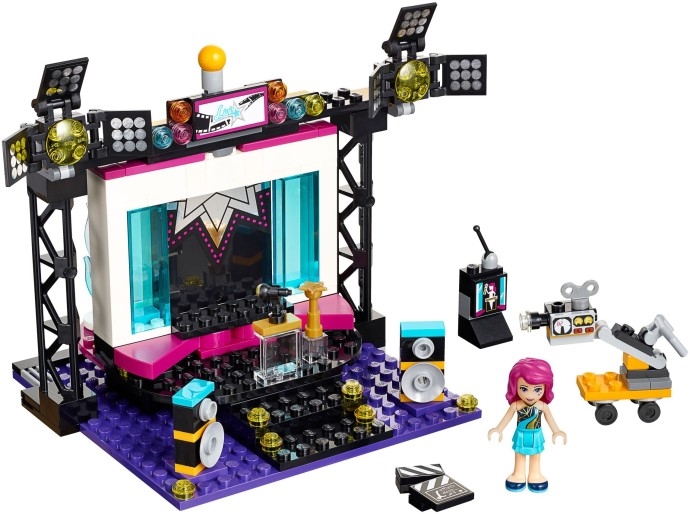 Discover the Creative World of the Pop Star TV Studio LEGO® Set!
Bring your dreams of producing music videos and film shoots to life with the Friends Pop Star TV Studio LEGO set. Unleash your inner film director and music producer while engaging in hours of fun and imaginative play.
The World of LEGO® Friends Expands
Launched on January 1st 2016, this LEGO set is a part of the much-loved Friends theme, with a unique subtheme highlighting the glitz and glam of pop stars. The Pop Star TV Studio set, identified by set number 41117, was available until December 31st 2016. This quickly cherished set has invited countless young builders to banish boredom and enter a world of creativity and make-believe.
A Detailed Composition
With its affordable recommended retail price (RRP) placed at £17.99/ $19.99/ €24.99, every piece in this 194-piece set is worth every penny or cent you invest. Whether you look at it from a cost perspective, where each piece averages out to roughly 9.3p / 10.3c / 12.9c or from the joy it brings as a toy, there's no denying that this is great value for money.
Designed for Fun
The Pop Star TV Studio isn't just about looking glamourous – it's meant to play with! With its manageable thanks to its respectable size at 26.2 x 19.1 x 6.1 cm (10.3 x 7.5 x 2.4 in) and weight at just under half a kilo (0.36Kg/0.8 lb), kids ranging from ages six to twelve can comfortably handle it.
Splendiferous Features
The bountiful features of the Pop Star TV Studio provide endless avenues for play and creativity. The box includes a mini-doll encompassing renowned Pop Star 'Livi', offering fans another collectible item dedicated to their favorite character.
The highlight feature is the TV studio, complete with steps leading up to a reversible stage intended for doting an awards ceremony on one side and shooting music videos on the other side – all decided by the whimsical playtime desires! A movable film camera, an adjustable spotlight, built-in speakers and display monitor – everything testifying authentic studio mimicking are provided.
In addition, various thoughtfully included accessories such as Livi's microphone, an artful clapper board, aqueous water jets acting as stage effects and an award trophy add richness to storytelling and extend possible play scenarios.
Endless Creativity
Young directors have absolute freedom to manipulate the stage visuals for shooting music videos by gliding different backgrounds across the reversible stage wall – all at their fancy! Turning around the stage reveals an awards venue whereby Livi awaits her nomination moment chock-full with drama and fanfare!
Try not limited to real-world phenomenon but indulge in fantastical flights of fancy- extend the play boundaries!
Educative & Age-Appropriate Engagement
This set fosters a well-made balance between enjoyable playtime and constructive learning experience physically crafted suitable for children between six-twelve years old. Explore how each of these hand-picked 194-bricks contributes uniquely towards fabricating such varied settings imparts practical architectural insights while facilitating skillful fine motor coordination is a delightful bonus!
Measuring over 5" (14cm) in height, width, and depth, this compact yet detailed TV studio is ready for young budding stars' scintillating performances making everyday ending on high notes!
.