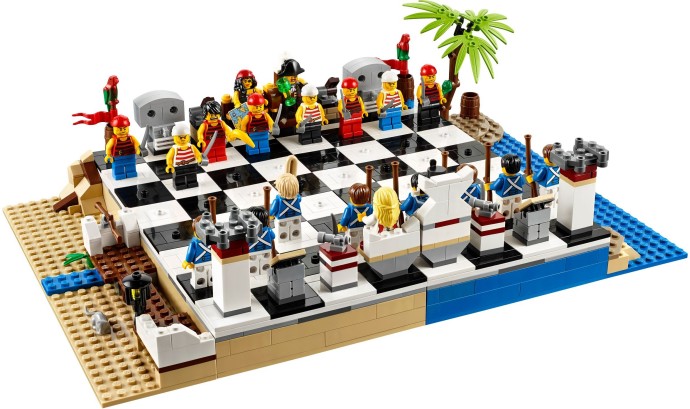 Exploring the Pirates Chess Set
Prepare for a rambunctious adventure across the seven seas with the Pirates Chess Set, retailed by LEGO. This chess set adds thrilling novelty to this time-honoured game. Romp through the sandy beach-themed board and get engrossed with the intricately detailed, brick-built playing pieces.
An Intertwining of Innovation and Tradition
Launched on March 1, 2015, this innovatively conceptualized chess set bridges the gap between tradition and innovation. It introduces budding strategists and seasoned tacticians alike to a vibrant arena clad in pirate aesthetics. Despite the unique figuration of the chess pieces, the norms of the classic strategy game are retained, making it an interesting blend of nostalgia and novelty.
Detailed Craftsmanship
Enjoy the delightful pirates vs Bluecoats theme offered by this set. As you may have guessed, it comes with an impressive array of 32 playing pieces punctuated by memorable characters including swashbuckling pirates in battle with brave Bluecoats. Keeping with tradition, each piece is brick-built but carries a design that is undeniably inspired by classic pirate tropes. With 20 minifigures in total, each armed with assorted weapons, it almost feels as if you've stumbled upon a hidden treasure trove within your chess box!
A Set Beyond Just Chess
No need to worry if you are more familiar with rigging sails than directing rooks, this set is still for you! But how so? Exemplifying multifaceted usage, it contains versatile elements that offer myriad possibilities when not engaged in strategic competition. You can simply let your imagination take reign and build a universe of high sea escapades around these intriguing characters.
A Worthwhile Investment
With its reasonable recommended retail price of £45.99 / $59.99 / 69.99€, the Pirates Chess Set offers considerable value given its expansive range of features and universal appeal for both gamers and LEGO fanatics alike. The cost per piece ratio falls at an attractive average of 5.4p / 7.0c / 8.2c – convincing proof that adventure doesn't need to come with plunderer's price tag!
Farewell Salute to an Incredible Journey
The Pirates Chess Set embarked on its final journey into retirement on December 31, 2016. While no longer available on official store shelves, it resides fondly in memory as a unique entry in LEGO's portfolio, that transformed typical gameplay into an engaging narrative brimming with adventure.