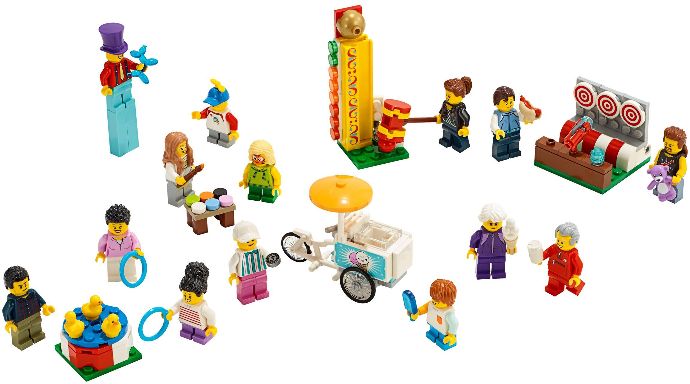 All the Fun of the Fair with LEGO People Pack – Fun Fair
With city life becoming increasingly intricate in LEGO's collection, creative minds can now embrace the buzz of a bustling fairground with the magnificent CITY People Pack – Fun Fair. Released in mid-2019, this set is a delightful bundle of exuberance. Gone are the days when your LEGO City was just limited to buildings and cars. This set ensures an exciting fair with great games and 14 fantastic figures.
A Walk Down Memory Lane in your LEGO Town
The joyous Fun Fair Pack brings an endearing touch of nostalgia to your LEGO City, replicating unforgettable memories from your own childhood. Who doesn't recall the anticipation of the outdoor fairs where you'd jump at the chance to win a rubber duck, or even get your face intricately painted?] Put together a festive scene that encompasses these cherished memories, right in your LEGO City, with this set's 183 pieces.
Create Limitless Adventures with New Characters
What sets this Fun Fair kit apart? Reason one: the copious amount of characters! The pack comes integrated with 14 characters, each possessing unique roles and personalities. From jovial grandparents to eager, ice-cream-loving youngsters and vibrant operators, every aspect of an authentic fair has been meticulously captured. The addition of these uniquely suited minifigures enlivens every corner of your city setup.
More Than Just a Toy Construction Set
Among the Fun Fair pack's accompanying elements are new-for-June-2019 ice-cream bike complete with umbrella and space for that delicious cone. There's also a strength test game – let them flex their muscles! For budding artists and creativity lovers, there is a face-painting booth ready to transform eager fair-goers into wild animals or superhero superstars.
A True Test of Dexterity and Accuracy
The People Pack – Fun Fair also brings traditional games to life, including a ring toss game starring three adorable new-for-June-2019 rubber ducks. It also features an engaging shooting gallery complete with a stud shooter designed to challenge accuracy and focus. Exciting prizes beckon for winners, ranging from a cuddly teddy bear to delectable treats like an ice cream cone or popsicle!
A Versatile Accessory Collection
This sundry accessory selection includes enticing elements to accessorize this festive set to your liking. You might want to add the new whirly hat for your character or organize hot dogs on a stall. Get into action by creating balloon animals or painting visions at the face painting booth. Let imaginations fly while still feeling tethered to your small city experience!
Little Pieces Make A Big Impact
While compact in size – with individual elements from 1″ (4cm) high and wide up till 3″(8cm) – these items combined create an immersive environment that sparks creativity. As they say – great things come in small packages – which is precisely true for LEGO 60234 People Pack – Fun Fair!
Carefully priced under £35/ $40/ 39€, it provides excellent value for money for its offerings considering its versatility and the sheer volume of playtime it offers.