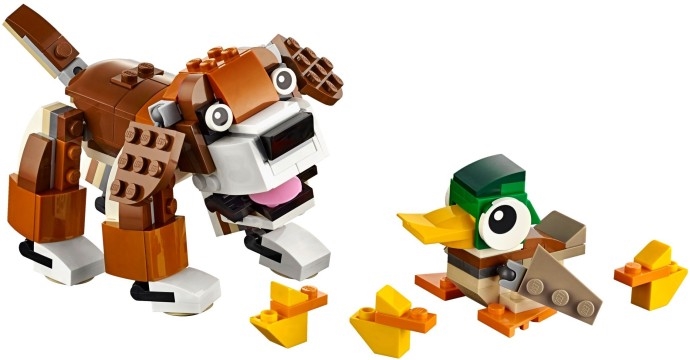 An Exciting Dive into LEGO's Park Animals Set
For LEGO enthusiasts, especially those with an affinity for nature and wildlife, the 'Park Animals' set is undeniably delightful. Released under the Creative 3-in-1 Subtheme in 2016, this 202-piece set is all about offering the joy of creativity, imaginativeness, and play in one compact package.
A Charming Set Designed by a Maestro
Designed to perfection by Morten Rauff, the set encapsulates the charm of the park life. From a cheerful dog to a loving duck and her adorable ducklings, these tiny LEGO critters' intricate details make this set a special one. The creative possibilities that emerge from 31044 are immense due to its versatile structure. Can you imagine shaping an owl out of your dog build? With this LEGO creator set, you can!
Feature-Rich Components
The Park Animals LEGO set isn't just blocks and pieces; it's a bundle of life-like features rolled into your own mini park. The playful pooch comes with movable legs and ears, offering multiple pose options. An opening mouth complete with tongue further adds to its realistic portrayal.
Nestled alongside is an affectionate duck with flexible wings and head. Its distinctive color scheme comprising of tan, green, yellow, orange and white hues perfectly capture its essence. The enticingly cute touch added by three ducklings that accompany mama duck couldn't be more perfect!
Unleash Your Creativity with Twice the Fun
If you thought this fun ends with building a dog or a duck – think again! The real magic starts when your child step into creative world and morphs them into an owl or a squirrel. The "Three-in-One" feature is like having three different adventure-packed sets in one box!
Build It Piece by Piece – A Fitting Challenge for Little Builders
With over 200 bricks to play with ranging from brown, dark-orange, white to black and even yellow & orange for the lil' ones – this age-appropriate building experience beckons children aged 6-12 years. Such a detailed building activity not only keeps them engaged but also helps to improve their cognitive skills.
Value For Money
This set strikes an excellent balance between price and experience. Priced affordably at £12.99 / $14.99 / 14.99€ with a low price-per-piece ratio indeed makes it a win-win deal for both kids creativity & parents pocket.
The Fine Mathematics – Size and Weight
The dimensions are compact – measuring just around 26.2 x 14.1 x 4.8 cm (10.3 x 5.6 x 1.9 in). And at an impressively light weight of only 0.28Kg (0.62 lb), the LEGO Park Animals makes for easy handling for little fingers yet providing large smile on their faces!
In conclusion, if you're looking forward to gifting your little one something that blends fun with creativity while also being pocket-friendly – LEGO's Park Animals Set is your go-to choice!