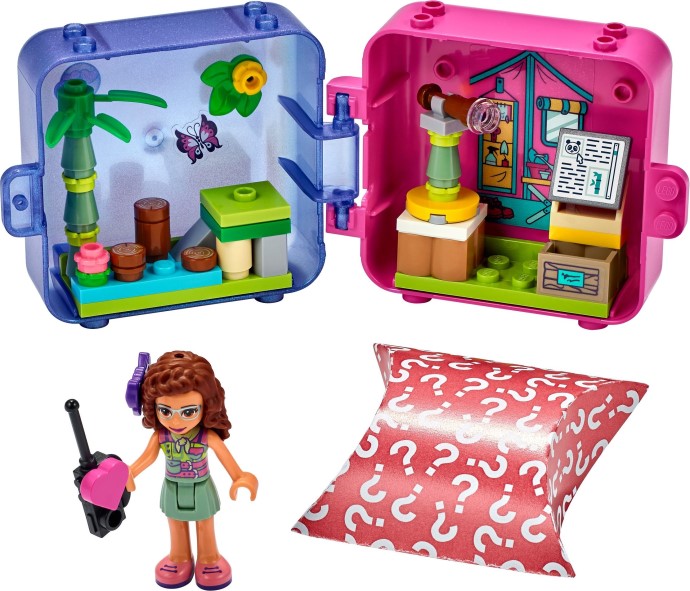 Unleash the Adventure with LEGO® Friends Olivia's Jungle Play Cube
Every child holds an innate curiosity for the wild, a fascination with creatures great and small that inhabit our vast world. The LEGO® Friends Olivia's Jungle Play Cube (set number 41436) fosters this curiosity, inviting kids to embark on a thrilling jungle adventure right in the comfort of their home.
A Compact Jungle Explorer's Paradise
Initially released on June 1st, 2020 and retired at the close of that same year, this highly sought-after set comprises of 51 carefully crafted pieces. Accompanying these numerous parts is a vibrant and cherubic Olivia minifigure, ready to take on the role of wilderness explorer!
The Excitement of Wildlife Spotting in a Cube
Beneath the toy's shell lies a miniature jungle teeming with excitement and dynamic play. Children can hone their story-telling skills as they capture Olivia's adventures: sighting unique wildlife through her trusty telescope or alerting her friends in Heartlake City via a walkie-talkie if she spots an animal in need.
A Pocket-Sized World Full of Fun
The beauty of Olivia's Jungle Play Cube doesn't just lie in its vibrant design or multitude of elements— equally striking is its compact size. Measuring around 15.3 x 20.5 x 5.2 cm (6 x 8.1 x 2 inches), it's a universe of fun that fits neatly into children's hands. With ease, these playful cubes can be packed up for travel or brought out during playdates.
An Affordable Way to Fuel Imagination
Selling at a retail price below £7.99 / $9.99 / €9.74, this fantastic set won't burn a hole in your pocket while offering endless hours of creative enjoyment for your little ones. Given its affordable price per piece, giving your child an immersive experience has never been more budget-friendly.
Building Skills and Self-Expression
Apart from firing up imaginative play, Olivia's Jungle Play Cube is also designed to impart key developmental skills in children aged six and above. Assembling each piece encourages logical thinking and problem-solving, while decorating the cube with various stickers allows children to express their unique sense of style.
The Art Behind Cubic Construction
This wilderness-inspired LEGO® play cube has another fascinating feature— it's part of a series! Kids can have an expanded collection by acquiring five different Jungle Play Cubes. Every cube contains a surprise colored wildlife animal to add more thrill to the adventure theme, turning them into prized possessions for young collectors keen on creating extended wildlife sagas.
Engineering Little Minds Towards Excellence
Just like every other product from LEGO®, the Olivia's Jungle Play Cube effortlessly combines entertainment and education, while sticking to stringent quality standards of safety and construction. For novice builders as well as experts alike, this toy assures an easy-to-follow instruction guide leading you through every twist and turn of your very own personal little jungle!
The charm of LEGO® Friends range lies in catering to children's diverse interests with their engaging playsets which provide Heartlake City girls' warm welcome to one and all! So gear up for some wild adventure story-telling with Olivia's Jungle Play Cube!