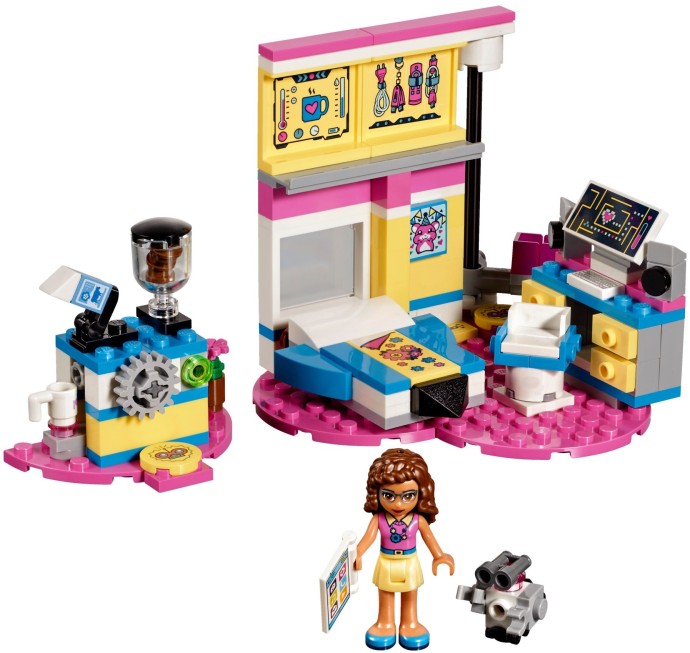 Explore the Intriguing World of 'Olivia's Deluxe Bedroom'
Think back to when you were a child exploring the enchanting world of LEGO®. The thrill of creating your imaginary world was an unforgettable experience. Now, with the 'Friends 41329 Olivia's Deluxe Bedroom' set, your kids can revel in this unique exploration journey. This charming set, part of the Bedrooms subtheme, will enrich their playtime with developmental growth while providing delightful entertainment.
Set Facts and Figures
Released on January 1st, 2018, the set design is attributed to Antica Bracanov. It offers a captivating playtime experience ideally suited for LEGO® enthusiasts aged between 6 and 12 years. Composed of 163 pieces and resembling a pink heart-shaped base, it hosts an engaging spatial layout representing Olivia's scientific inclinations brilliantly.
Financial Aspects
Budget-wise, this LEGO® playset is affordably priced at £12.99 / $14.99 / 14.99€, making it an economical choice for parents who are keen on nurturing their kid's intellectual curiosity without breaking the bank.
A Look Inside 'Olivia's Deluxe Bedroom'
The notable interior includes a distinctive rocket-shaped bed that amplifies the space-themed representation. There is also a functioning elevator and track system for Olivia's robot assistant Zobito to move to different sections of the room – a feature that kids will undoubtedly find thrilling. A separate breakfast area contains a coffee machine which humorously 'pops' out a mug when coffee is 'ready'.
One-of-a-Kind Accessories
Delving deeper into the set reveals various other exciting elements such as a swivel chair, desk equipped with computer and drawers, and even a tablet. When it comes to Olivia's ever-helpful buildable robot pet Zobito, he offers fantastic assistance whether she's working on her latest invention or planning her next meet-up with friends.
The LEGO® Friends Bedroom Collection
'Olivia's Deluxe Bedroom' equally shines when combined with other sets from the LEGO® Friends bedroom collection. Families can explore other intriguing sets such as '41327 Mia's Bedroom' and '41328 Stephanie's Bedroom', each sold separately. By blending these sets, they can create an expansive LEGO cityscape that encourages ongoing creativity!
In conclusion, The Friends 41329 'Olivia's Deluxe Bedroom' LEGO remains an excellent pick for any budding artist or young scientist-in-the-making! Not only does it provides endless hours of imaginative play but it also fosters problem-solving skills and hand-eye coordination in children!