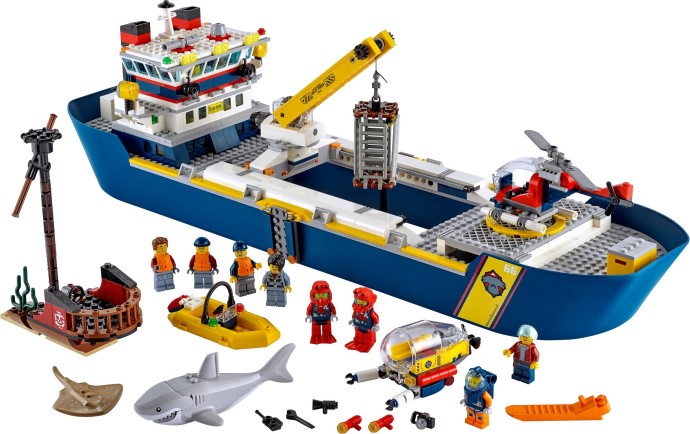 Discover the Depths with the LEGO City Ocean Exploration Ship
Immerse yourself in a world of underwater wonder and excitement with the LEGO City Ocean Exploration Ship Set 60266. This impressive build from LEGO's City subtheme – Deep Sea Explorers, is your boarding pass to a wave of adventure.
A Titanic Release
The Ocean Exploration Ship buoyantly surfaced on 01 June 2020 and made a massive splash among LEGO enthusiasts and young explorers across the globe. It remained a staple part of collections until it retired on 31st December 2021. With a sizable total of 745 pieces, this constructible set makes an excellent addition to any ocean enthusiast's or LEGO connoisseur's collection.
Made for Miniature Minifigs
The set features eight detailed minifigs, providing everything a child needs for endless stories on the high seas. One of them includes none other than the TV character Harl Hubbs from LEGO City Adventures. The presence of Harl guarantees that fans of the series will have ample fun recreating his incredible escapades.
Cost-Worth Investment
At £124.99 / $149.99 / 129.99€, each individually unique piece in the Ocean Exploration Ship set calculates to around 16.8p / 20.1c / 17.4c. The vast array of exclusive elements and playset functionality arguably make this a worthwhile investment for any diving fanatic or LEGO enthusiast.
Dock It Anywhere
The set measuring dimensions of 57.7 x 37.4 x 11.3 cm (22.7 x 14.7 x 4.4 in), housing all those unique play features within its compact frame, offers endless placement options whether it be on your display shelf or amidst your child's play area.
An Adventure into The Blue Unknown
With the Ocean Exploration Ship set, the thrill of discovery is limitless! Transcend beyond dry land — dive deep underwater with the research submarine, have close encounters with aquatic creatures inside the shark cage or take to the skies with your trusty helicopter for a bird's eye view of your discoveries.
To amplify the adventure, there lies an abandoned pirate shipwreck filled with hidden treasure waiting to be discovered and analyzed back in the captain's bridge featuring sleeping and research areas.
A Seamless Build Calls!
LEGO supports each eager builder every step of the way by including easy-to-follow printed instructions as well as Instructions PLUS accessible at any point on their free app for smart devices. This interactive guide offers amazing zoom and rotate viewing tools that aids in transforming blooming builders into master architects.
Promote Ingenious Play
In addition to their heavyweight fun factor, playsets such as these not only foster creative thinking and imaginative roleplay but also pay homage to, and support, National Geographic Explorers' ground-breaking work promoting environmental consciousness among future generations.
Quality is never compromised with Lego as all bricks and pieces are subject to rigorous testing standards ensuring you a smooth building experience every time you build your world with LEGO® City—a proud partner in making our Earth a better place for us all!