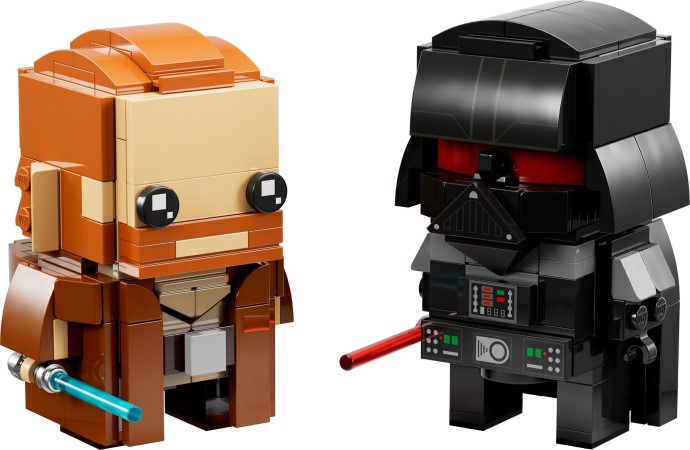 Get Ready for Epic Star Wars Battles with the Obi-Wan Kenobi & Darth Vader BrickHeadz Set
LEGO is back with another fantastic BrickHeadz set, this time featuring two iconic characters from the Star Wars franchise. Say hello to Obi-Wan Kenobi and Darth Vader, two beloved characters immortalized in the BrickHeadz style! This highly-detailed building toy lets you relive exciting scenes from the Star Wars universe, making it perfect for kids and adult fans alike.
The Ultimate Building Experience for Star Wars Fans
Featuring an impressive 260 pieces, the Obi-Wan Kenobi & Darth Vader BrickHeadz set is the ultimate building experience for any true Star Wars fan. Each figure faithfully recreates the unique physical characteristics of its corresponding character, including Obi-Wan's flowing robes and Darth Vader's menacing red eyes.
Showcased on Display Bases
As part of their impressive collection, fans can build these figures straight onto display bases that come included. These sculptures stand over three inches tall, and carefully detailed instructions ensure that the finished products replicate their on-screen counterparts flawlessly. Whether they are placed individually or together as a diorama, this set will earn a place of honor among any collector's prized possessions.
The Perfect Gift
Looking for a gift for a friend or loved one who appreciates both LEGO and Star Wars? This set is just what you need! It's also perfect for anyone who has recently enjoyed a marathon of classic movies in the series or anyone awaiting eagerly specific episodes of many new TV programs. Suitable for ages 10 years and up, this set is sure to be an instantly recognisable part of any Christmas or birthday event.
A Strong Addition to Any Collection
The Obi-Wan Kenobi & Darth Vader BrickHeadz set is the perfect gift for LEGO builders, Star Wars fans, and collectors looking to add a unique and cherished item to their collection. Fantastic detail combined with excellent LEGO quality assures this impressive new addition is going to be one of the must have LEGO sets of 2022.
Don't wait around – put your building skills to the test and get the Obi-Wan Kenobi & Darth Vader BrickHeadz set today!