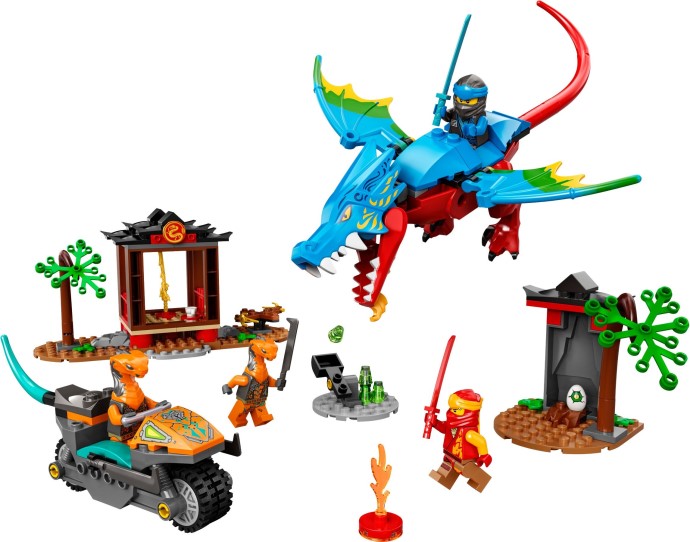 Discover the Magic of the Ninja Dragon Temple
Prepare to embark on an unbelievably riveting journey of excitement, adventure, and playful construction! Introducing the sensational LEGO set, the "Ninja Dragon Temple" (set number 71759), which emanates from the high-energy and action-packed universe of Ninjago, a cherished subtheme under Core. Come June 1st, 2022, this magnificent playset will take centre stage in the toy world and your child's heart.
Dive into the Exciting World of Ninjas
Experience first-hand the thrill of building this stunning 161-piece set fit for any avid ninja enthusiast aged 4 and above. With an exceptional attention to detail in every block, LEGO brings to life a posable dragon idol, two swaying trees, two mystery-filled ninja temples and a preciously guarded dragon egg. Teeming with ninja action, our heroes Kai and Nya are pitted against crafty foes – Cobra Mechanic and Sneaky Snake. The intensity only heightens when we learn that each bag in this playset unfolds a unique character model for kids to assemble at their own pace.
Creativity Takes Flight With a Posable Dragon Toy
The Ninja Dragon Temple offers not just hours of fun but also sparks creativity among young minds. The dragon – complete with moveable head, tail and wings – can be assembled effortlessly with the help of a Starter Brick provided in this set. Filled with wonderment at every phase of assembly, your child's imagination will soar high just like their new dragon companion!
An Epic Journey Awaits in Your Digital Adventure
Breaking barriers between brick and digital build fun, LEGO offers interactive digital building instructions accessible through their app. With handy zooming and rotating functionalities on offer, your child can construct the model with ease on their respective smartphones or tablets. And guess what? They can even save their progress at any point!
The Perfect Gift That Keeps on Giving
This exhilarating playset doesn't stop at being an enthralling task; it doubles as a beautiful display piece too. Once put together, spread its wings over 9 cm high, 23 cm long and stands tall at 16 cm wide—a proud symbol of your child's creation skills can fill up their room!
Promising Quality And Safety Par Excellence
LEGO does not compromise on quality or safety—our bricks have been unparalleled since we started using them in 1958. Even after countless pulls apart and creative constructions, these bricks remain intact as if untouched! Moreover, each brick stands firm after rigorous testing to meet stringent global safety standards.
Don't Miss Out on This Epic Adventure!
Hurry! Dive into this engaging Ninja adventure before it retires on July 31st, 2023. With the alluring "Ninja Dragon Temple", dreaming big has never been more fun!