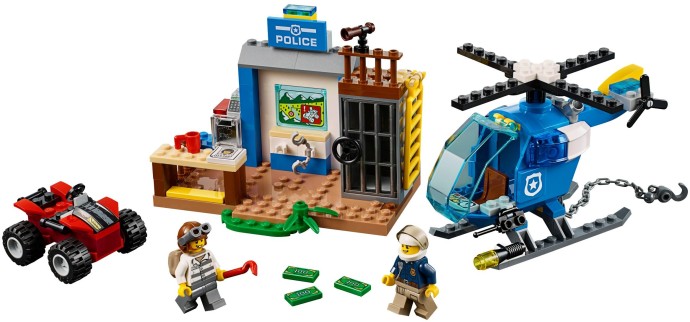 Enter the World of Adventure with LEGO Juniors Mountain Police Chase!
Step bravely into a world of thrilling chases and heroic rescues with the LEGO® Juniors/4+ Mountain Police Chase set 10751. Unleash your little one's imagination in this enticing playset, bringing an exhilarating array of captivating tasks designed specifically for young LEGO enthusiasts.
Experience Action-Packed Playtime
The LEGO Juniors Mountain Police Chase set allows your child to fill the boots of a police officer from the LEGO City Mountain Police Force. This engaging kit includes an easily constructible police helicopter, fully-equipped with an opening cockpit for minifigures, rotating rotors, and a hook-tied chain. The set also includes a police station complete with desk, jail cell, and overlook ladder leading to a lookout post with spyglass— the perfect vantage point for ensuring safety and lawfulness in your LEGO city!
Increase Building Skills Confidence
Made specifically for young builders aged 4 to 7, this remarkable starter set offers concrete foundation baseplated structures that enhance construction confidence, even in beginners. Let the youth become well-acquainted with LEGO building as they explore this cleverly designed entry-level model.
Race in Pursuit on the Quad Bike
No police chase is complete without a trusty getaway vehicle! This immersive toy collection comes with a quad bike built perfectly to seat a minifigure. Watch as your little ones enthusiastically plan maneuvers to apprehend the bad guys!
Dive into Intrigue and Mystery
The villain in the set has broken into the safe! With money bills up for grabs and only a crowbar left behind, it's time for your child's lego hero to save the day. Conduct investigations around town utilizing additional exciting accessories such as handcuffs, a WANTED poster, and more.
All You Need For Exciting Playtime
This delightful package – priced reasonably and crafted primarily for children aged four to seven – measures compactly at 26.2 x 19.1 x 4.6 cm, making it ideal for both storage and hours of play. Weighing only 0.33Kg (0.73 lbs), the Mountain Police Chase set is light enough for easy transportation while ensuring durability during numerous exciting pursuits.
Conclusion
Come to the rescue and capture the bank-robbing crooks with this splendid LEGO Juniors: Mountain Police Chase set! Its interlocking elements, dynamic story setup, and easy-to-build models make it the perfect introduction to more complex lego sets. It is unquestionably an essential addition to every imaginative child's toy collection!