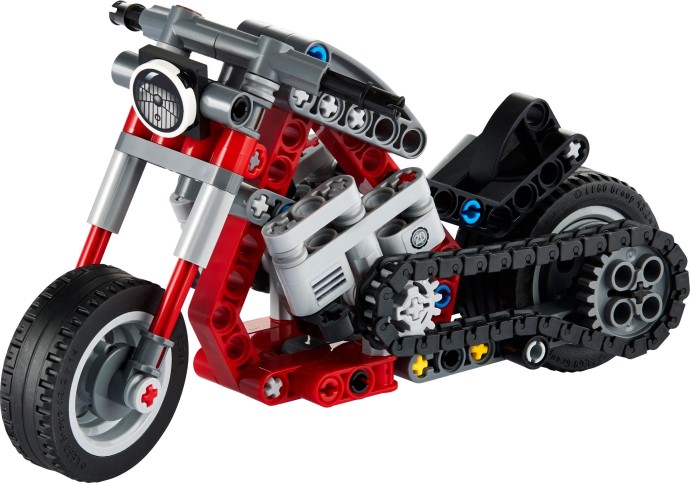 Introducing the LEGO® Technic™ 42132 Motorcycle
If you know youngsters with a passion for motorcycles, look no further than the innovative and hands-on LEGO® Technic™ 42132 Motorcycle set! Turning every child into an aspiring engineer, it's an enjoyable, educational adventure that combines fun with a unique learning opportunity.
Explore the Intricate Details of the LEGO® Technic™ Motorcycle
This meticulously designed LEGO® Technic™ model is a treat for motorcycle enthusiasts aged 7 and up. The authentic design intricacy of this chopper-style motorcycle will captivate young minds as they explore the various functions of the model. A 3-cylinder chain-driven engine with moving pistons, a rotating chain, and authentic steering, gives kids a realistic insight into the mechanics of a real-life motorcycle. It's a miniature motorbike universe that not only ensures endless fun but also presents an ingenious way to learn about engineering concepts.
A Versatile 2-in-1 Experience
Ranked highly among LEGO®'s notable 2-in-1 building sets, the Technic™ Motorcycle changes shape to accommodate more adventurous playtimes. Once kids have had their fill of riding around as biker dudes, they can transform their trusty steed into a thrilling Adventure Bike. This opportunity to rebuild and reimagine extends playtime indefinitely while encouraging problem-solving skills and imaginative role-play.
An Approachable Introduction to Engineering
Blending intricate moving elements with true-to-life mechanisms, these buildable models give youngsters an introductory peek into the world of engineering. Not limited to being mere playthings, these technologically advanced LEGO® sets serve to inspire our future innovators towards a deeper understanding of mechanical structures in an engaging manner. With each build posing uniquely creative challenges, every Technic™ set is a step towards their next big project.
A Seamless Blend of Fun and Safety
While providing hours of endless fun and learning, no compromises are made on safety standards. Every LEGO® Technic™ component goes through rigorous testing processes- dropped, heated, crushed, twisted and thoroughly analysed- all to guarantee that they meet stringent global safety norms. Reliable connectivity and consistent quality help make building secure and hassle-free for your young ones.
The LEGO® Technic™ 42132 Motorcycle set is more than just a gift; it's an exciting hands-on passage to discovery that promises loads of fun while promoting valuable learning experiences. Always ready to hit the road or trail off on adventurous terrains, this little marvel makes for an excellent addition to any young motorhead's collection!