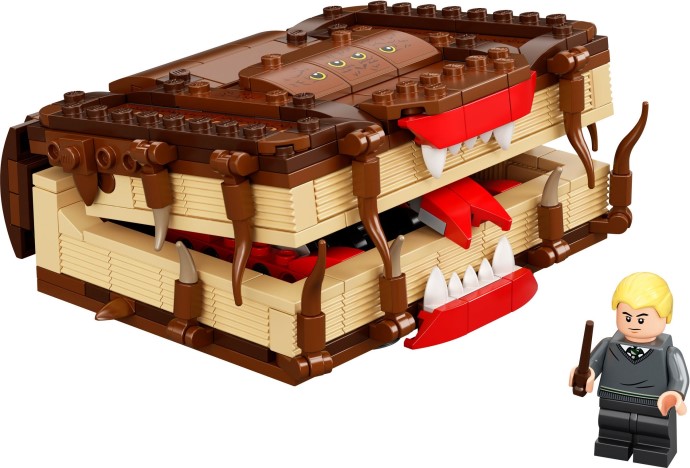 Bring Hogwarts to Life with The Monster Book of Monsters LEGO Set
Get ready to venture into the magical realm of Hogwarts right from your living room with the mesmerizing and captivating LEGO Harry Potter The Monster Book of Monsters set (30628). A splendid rendition of one of the most iconic and exhilarating scenes from Harry Potter™ and the Prisoner of Azkaban™, this LEGO set is every Potterhead's dream.
Exceptional Features That Stand Out
Brought to life by renowned designer Justin Ramsden in 2020, this ceremonial LEGO set will transport you straight into Harry's memorable third year at Hogwarts™ school. Part of the cherished Promotional subtheme under Harry Potter category, it boasts detailed beauty and exemplary architecting.
The Monster Book of Monsters isn't just a stationary decoration piece. When drawn across a flat surface, a built-in mechanism triggers the book's mouth to imitate opening and closing motions- offering a lively portrayal of the infamous Monster Book in action just like in the film.
A Compelling Addition to Your Collection
The set's outstanding charm doesn't stop at its interactive features. It includes a meticulously crafted LEGO Draco Malfoy™ figurine, adorning his elegant school uniform. The action figure adds depth and realism to the play experience and is bound to trigger bouts of imaginative playtime or simply enhance your connoisseur collection.
An Artistic Masterpiece Worth Cherishing
Comprising 320 diverse pieces, this fantastical playset is not only an engaging but also fulfilling build. The Monster Book itself dons an ingenious design with teeth embellishments, accentuating straps, and elaborate studs for a lifelike look.
This thrilling toy, which costs less than $0.08 per piece, demands not just for kids aged 10 years or more but even adults who are avid fans will find it irresistible. Measuring over 4″ long and 3″ wide or 20.5 x 19.1 x 7.3 cm in actual measurements, it radiates an unmistakable magic- much like its silver screen counterpart.
A Stellar Gift Option
Whether you want to surprise a keen bookworm on their birthday or impress an ardent Potter fan this Christmas, this gem from LEGO is beyond perfect! It went live on November 01, 2020, staying fresh until December 31, 2020 making it a limited edition marvel from its time entirely worth owning!
In conclusion, The Monster Book of Monsters provides an enchanting way to relive some classic Harry Potter nostalgia while honing building skills. Its tangible aesthetics combined with its role-play potential makes it a must-have for any LEGO collector, especially those bewitched by the magic of Hogwarts.