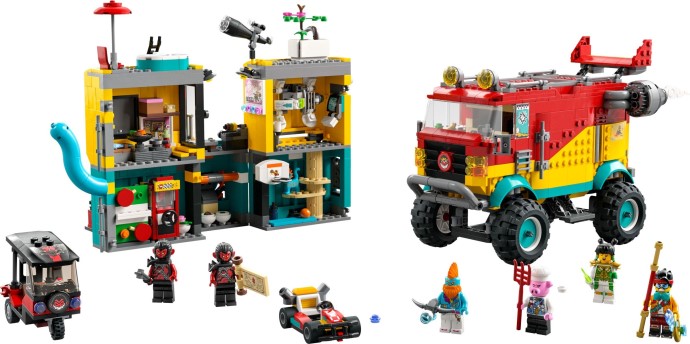 Explore New Adventures with Monkie Kid's Team Van
Unleash an imaginative universe of excitement and discovery with the highly interactive LEGO® Monkie Kid's Team Van. Released in 2022, this fascinating toy set no.80038 is designed to offer unique playful moments with a detailed brick model representation of Monkie Kid's Team Van.
A Treasure Trove of Adventure
Infuse a sense of marvel to your child's playtime with this intricately designed vehicle – the brainchild of the universal LEGO® Monkie Kid™ theme. With this impressive set, children aged 9 and up can experience hands-on engagement with a versatile blend of tangible elements that inspire innovative play.
The highlight of this extraordinary set is its transformative nature. Instantly commandeer Pigsy's dumpling-shooting blaster under a seat by simply pressing the discreet button. Swing open the back door to dispatch Monkie Kid's high-speed go-kart for quick escapes or rescues.
A Universe Inside a Vehicle
Monkie Kid's Team Van brings to life a delightful microcosm of fun and action. Sitting comfortably atop the vehicle, two detachable containers brim with surprises – a spring-loaded shooter, Mei's dragon horse hovercraft, Pigsy's fully equipped kitchen, arcade games galore, even a ping-pong table for downtime!
Character Line-up
What's an adventure without companions? The set boasts six LEGO minifigures — from the hero Monkie Kid and his trusty friends Mei and Pigsy to behemoth sidekick Sandy and baddies Rumble and Savage. Also included is Mo, an adorable cat figure adding another layer of appeal to this set.
Fanning Flames of Creativity
Fuel your child's imagination further by including a mystical blue Fire Ring and the Shadow Monkeys' zippy tuk-tuk. The van's removable roof provides swift access, ensuring your young explorers are always ready for action — any time, any place!
All About Quality Content
The 1,406-piece LEGO® Monkie Kid™ set has been crafted meticulously to deliver top-tier quality that LEGO® is renowned for worldwide. From ensuring simple and secure connectivity between components to testing the bricks exhaustively for achieving strict global safety standards—you'll be availing nothing short of excellence!
Digital Reinforcement
In addition to physical components, you also gain access to digital instructions on the LEGO Building Instructions app—to make your child's building experience as smooth as possible. Further enhancing their skills—an excellent combination of physical and digital learning!
Whether it's as a birthday gift or a surprise present – Monkie Kid's Team Van promises hours upon hours of immersive playtime goodness while nurturing creativity among young minds. Embark on fantastical adventures peppered with legendary tales from the timeless Journey to the West novel—reimagined in modern style!