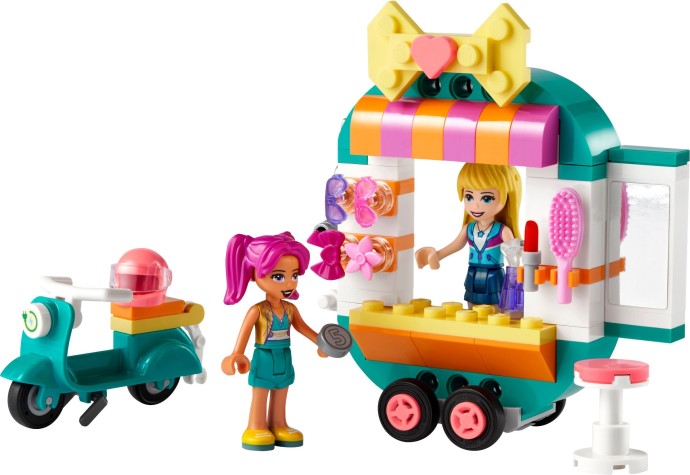 The LEGO® Friends Mobile Fashion Boutique (41719) – A Style Statement in Toyland
Delve into a world brimming with style and color with the newly introduced LEGO® Friends Mobile Fashion Boutique (41719). Designed with kids aged 6+ in mind, this set is an amalgamation of creativity and fun. Its launch date is the 1st of June, 2022, an addition to LEGO's impressive collection under its Friends theme in the realm of art.
Setting Sail Your Creativity
With LEGO® Friends Mobile Fashion Boutique, every child becomes a stylist. This playset houses an array of accessories like a blow-dryer, scissors, brush, lipstick, and perfume, to bring out the inner fashionista in every child. Sauntering around Heartlake City has never been more exciting. Stephanie makes her grand entrance on an electric scooter, towing behind her a mobile shop packed with vibrant makeovers for its residents. Your kids aren't just playing; they're stepping into a world that fosters their innovative instincts and nurtures their imagination.
A Touch of Realism
The clever functions incorporated in this toy bring it a step closer to reality. The mirror is hinged for ease and convenience which could be neatly tucked away during travel times. The boutique's lifelike elements help cultivate real-world skills in young stylists while keeping them joyfully engaged. What's even more exciting? The scooter is detachable!
Fashion Fairytale at Your Fingertips
This set contains 94 pieces priced at £8.99 / $9.99 / 9.99€ and comes with two characters – LEGO® Friends Stephanie and Camila. For such a sensible price per piece ratio, it delivers abundant entertainment along with tangible skills. The deluxe electric scooter measures 14.1 x 12.2 x 6.1 cm when hitched together with the boutique – sized perfectly to fit into those little hands.
Encouraging Independent Building Fun
Along with instilling sense of style, this set simultaneously encourages independent building fun as it comes equipped with Instructions PLUS. Available on the Lego Building Instructions app, this feature helps children grasp the building process swiftly and enjoyably with its zoom-in details and rotation aids.
An Unforgettable Gift for Little Style Enthusiasts
Turn your child's ordinary day into an extraordinary one with this set! LEGO® Friends Mobile Fashion Boutique sparks creativity and opens up a universe full of fashion fantasies where kids can live out their dreams of turning friends into fashion icons or running their own boutique. Wrapped up in vibrant colours and ingenious functions, it imparts endless fun as much as it builds life skills! What are you waiting for? Make this day count by gifting them their personal styling studio on wheels!