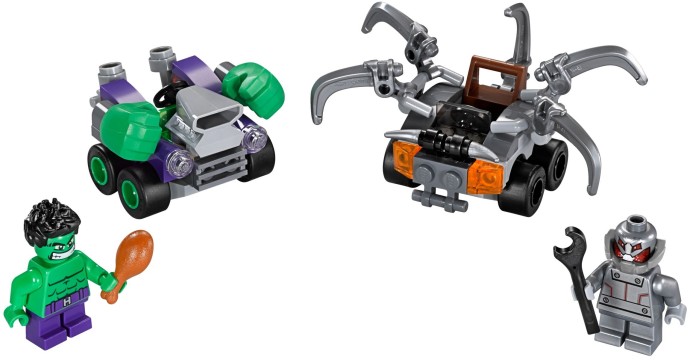 Unleashing the Fun with Mighty Micros: Hulk vs. Ultron
Calling all Marvel Super Heroes fans! Get ready to dive into a fabulous world of fun and imagination with the "Mighty Micros: Hulk vs. Ultron" building set (Set number 76066) from the phenomenal Marvel Super Heroes edition. Released under the unique Mighty Micros subtheme, this intriguing set opened up its world of adventure back on March 1, 2016.
A Brief Yet Memorable Existence
While its availability touched its sunset on December 31, 2016, the short span of its reign indeed left a splendid impression on young super heroes around the globe. Even though it waved goodbye pretty soon, it managed to inspire countless hours of creative play and challenged young minds with its 80-piece assembly.
Friendly Price Tag for Endless Entertainment
Retailing at just £8.99 / $9.99 / 9.99€, this classic Lego set introduced an affordable avenue for kids aged between 5 and 12 years to dive into a universe brimming with creativity and learning. At a humble price-per-piece of 11.2p / 12.5c / 12.5c, mini figure enthusiasts got their hands on a pocket-friendly pathway to infinite fun.
Pint-Sized Yet Powerful Playmates
The heart of this remarkable set lies in its two engaging minifigures – the mighty Hulk and the sinister Ultron. Capturing their characters in adorable compact designs, these figures added a delightful touch to any Lego collection.
Immersive Gameplay Beckons!
Children had a blast role-playing thrilling face-offs between Hulk's vehicle, equipped with huge green fists, and Ultron's movable tentacled vehicle. Beware, Hulk prefers his chicken leg every now and then while Ultron wouldn't mind tightening some bolts using his wrench.
Unleash the Power of Micro Vehicles
Hulk's Mighty Micros vehicle indeed stands out with its height of over an inch but don't underestimate Ultron's slightly bigger measurements that goes over 2". Both vehicles flaunt wonderful wheel-turning abilities enhancing the gameplay manifold.
A Charismatic Charm to Gift
Fulfilling fantasies of becoming a superhero is made possible with this playful gift that nestles into tiny hands effortlessly! Weighing just about light as a feather at approximately 0.09 kg, it's is also sized perfectly for compact playtime or decoration at just over 4" x 5" x 1".
All set to bring fun right into your homes; Mighty Micros: Hulk vs Ultron continues to win hearts with its thoughtfully designed elements and robust yet easy-to-follow gameplay making it an ideal inclusion for any child's toy shelf.