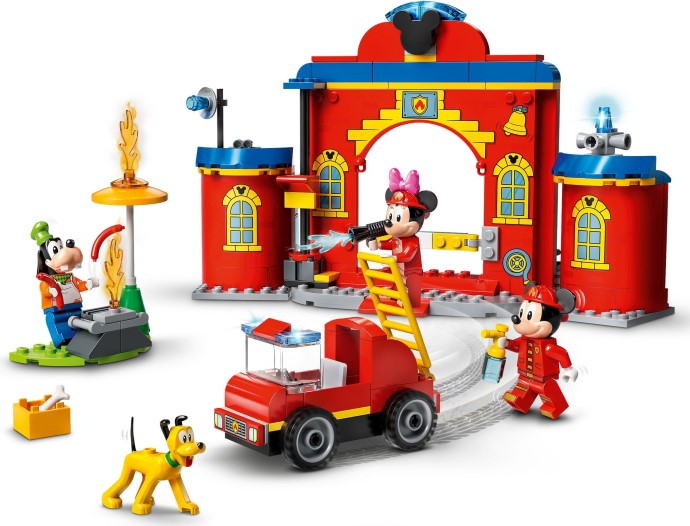 Ignite Imaginations with the LEGO® Mickey & Friends Fire Truck & Station Set
The magic of Disney and the wonderful world of LEGO® come together in the enchanting 10776 – Mickey & Friends Fire Truck & Station set. This imaginative playset enhances and invigorates young minds, fanning their creative sparks while cultivating their building skills through a unique approach, encompassing enjoyment and learning.
Brick-built Adventure Awaits
This delightful LEGO® ǀ Disney set, launched on 1st August 2021, adds excitement to the life of little firefighters. It brings to life the adored characters from Disney's Mickey Mouse team while setting prelude to exciting firefighting episodes for children aged 4 and up. The set showcases a meticulously designed fire station and fire truck, complete with all the bells and whistles one might require for daring rescue missions.
Revelling in Playful Learning
This playset is more than just pretty bricks and lovable characters. The enchantment also lies within the climbing ladder of learning opportunities it provides. Each bag of bricks is partitioned in a way that each contains an individual character or model toy for your child to quickly assemble, making way for faster playtime!
Instead of merely listing down the specifications, let's delve into how this set adopts an innovative approach towards enhancing children's construction skills while providing gigabytes of fun!
Galore of Features
Included in the engaging assemblage are two Starter Brick bases to expedite assembly process, fostering increased playtime. Encased within such enticing features are three engaging minifigures – Mickey Mouse, Minnie Mouse and Goofy. And not forgetting man's best friend! A lovable dog figure with rubberised ears and tail is also included – cherish Disney's Pluto appearing for the first time ever in LEGO collections.
To enhance role-play further, this revitalising firehouse measures over 5.5 in. high and 9 in. wide, providing ample space for sprawling adventures. The generous amount of firefighting tools along with special additions like a food dish and bone for Pluto ensures an immersive play experience like no other.
Beyond the Basics
The design intricacy doesn't end at physical aspects alone – this kit also offers kid-friendly picture instructions which are incredibly easy even for children just learning to read. These instructions remove any building-related barriers for young hands while enhancing their problem-solving capabilities.
To make things even more eye-catching, 'Instructions PLUS' is accessible via the free LEGO Building Instructions app. The application comes with features like save points during building process so that children can jump back into their build any time.
A Gift Like None Other
Retailing at £44.99 / $39.99 / 49.99€ makes this unique playset not only a testament of imagination gone wild but also presents it as an unforgettable gift option guaranteed to entertain kids for hours on end.
The Mickey & Friends Fire Truck & Station cements its place as a perfect conduit for adults to bond with kids while sparking creativity amongst them. As time goes on, kids can blend this set with other LEGO® structures to create custom-built sanctuaries of their imagination.
An Everlasting Joy
Mickey & Friends Fire Truck & Station is what dreams are made of – it allows youngsters to dive into an ocean of possibilities where they can let their imaginations run unabated while enhancing their cognitive skills by leaps and bounds; all these using simple yet magical little bricks that have stood test since 1958!