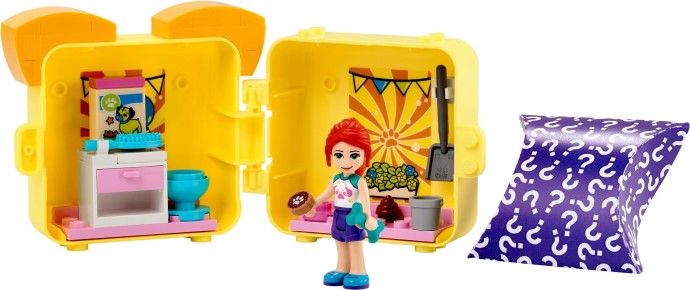 Introducing the Adorable LEGO® Friends Mia's Pug Cube
If you are searching for the perfect reward for a little one who deserves a pat on the back, look no further than the LEGO® Friends Mia's Pug Cube! Officially known as the set number 41664, this compact playset was expertly crafted by designer Ellen Bowley and released in January 2021.
A Peek Inside Mia's Pug Cube
What sets this LEGO® Friends set apart is its adorable design. It embodies the charming comical appearance of a pug, complete with endearing ears and a friendly face. But that is just the surface! Open up this pocket-sized cube and discover a world of fun that will have any child overjoyed.
Once opened, children are greeted by a LEGO® Friends mini-doll named Mia, accompanied by her cute pug pup. The colour of the pup may just surprise you as it varies per set! Further exploration of Mia's Pug Cube reveals realistic grooming accessories allowing young builders to role-play taking care of Mia's playful pet.
The attention to detail in this set is impressive. With just 40 pieces, it manages to incorporate some humorous elements like a shovel meant for scooping poop. You'll also find a buildable cabinet just waiting to store the pug's beloved chew bone and tempting dog biscuit.
Taking Fun with You
Mia's Pug Cube shines where many playsets falter – portability. Compact enough to fit in any bag, the magic of this playset can follow kids wherever they go. This makes it an excellent choice for playdates. When friends get together, they can delve into creative adventures inside Heartlake City, mimicking their favourite characters from LEGO® Friends series or using their imagination to make new tales.
A Great Beginning to Building Fun
With an age recommendation of 6+, this delightful playset serves as an excellent gateway into the world of LEGO® construction for budding builders. While it provides hours of entertainment, it also helps children master their fine motor skills all while having fun!
The price tag is gentle too. For just £8.99 / $9.99 / 9.99€, parents can introduce their children to this imaginative universe without breaking the bank.
A Toy That Lasts
LEGO®'s unwavering commitment to quality is apparent in every element of Mia's Pug Cube; designed and tested to be durable, it copes perfectly well with regular kid-handling! After all, LEGO® products meet stiff industry standards to ensure compatibility, consistent connection and detachment. They equally satisfy rigorous global safety standards making them safe for children worldwide.
In conclusion, whether you want your child to experience fun on-the-go or you're looking for a toy that triggers creativity in your child while adhering to global safety standards – Lego Friends Mia's Pug Cube checks all boxes!