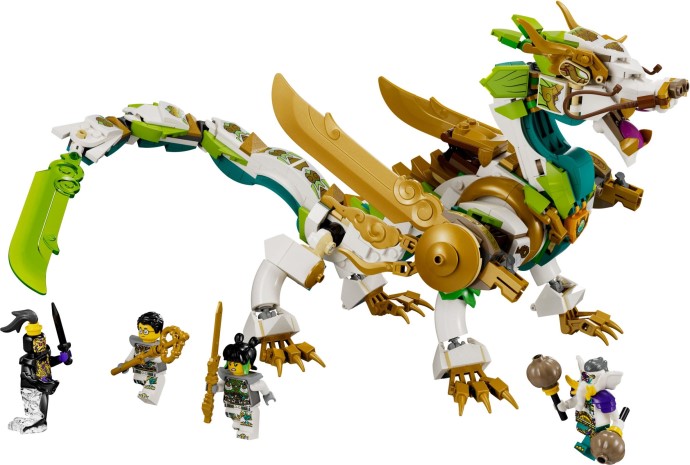 Meet Mei's Guardian Dragon from LEGO Monkie Kid
The LEGO Monkie Kid universe is expanding once again, and this time around we're delighted to see a new creation taking center stage. Unveiled on June 1, 2023, let's dive into everything about the LEGO Monkie Kid set titled "Mei's Guardian Dragon," also known as Set Number: 80047.
Unleashing the Dragon
Brought to life with an impressive count of 605 brick pieces, this fantastic dragon model is an absolute joy to construct. Filled to the brim with moving parts such as its articulated jaw, legs and tail, it offers unlimited room for imaginative play. The wings aren't merely for decoration either – they house two stud launchers to enhance action-packed adventures!
The set doesn't end there! It comes with four beautifully detailed minifigs too – Including Mei and Mr. Tang clad in their power-up suits, the fearsome Yellow Tusk Elephant wielding a mace and Ink General armed with an 'ink' stud launcher.
Embark Upon Legendary Tales
The fun and learning go hand in hand in this adventurous playset inspired by stories from the renowned novel Journey to the West. It empowers young minds aged 9 years and older to recreate exhilarating scenes from Season 4 of the LEGO Monkie Kid TV show.
LEGO lavishes attention on details; Mei's golden weapon and Mr. Tang's ancestral weapon are just what one needs to defeat the In General. Similarly, striking detail can be seen etched in every inch of Mei's Guardian Dragon, transforming kids into legendary heroes right at home.
A Toy with Endless Possibilities
This set isn't just a toy but is indeed a dynamic playground for children's imagination. With its intricate components that meet rigorous industry quality standards, this flexible toy provides infinite combinations. Children can enjoy countless hours of creative fun and develop their building skills while embarking on incredible adventures.
The model dragon measures over 9 inches high, 18 inches long, and 6.5 inches wide – it's designed to be lifelike and inspiring in size to incite awe-inspiring plays. For those who want to enhance their experience further, this LEGO Monkie Kid set can be combined with other sets within the theme (sold separately), amalgamating different elements for even more captivating playtimes.
Assistance at Your Fingertips
The LEGO Builder app adds another dimension to this exciting building journey. Acting as a guide during construction, your child can use the app's intuitive design to zoom in on models for better clarity or rotate them in 3D while saving sets and tracking their progress. It's a toy set that teaches patience while encouraging hands-on construction skills – an adventure stimulating both minds and hands!
Quality Meets Safety
In keeping with its legacy of delivering premium quality toys, LEGO ensures that every piece complies with stringent global safety standards; each one is designed to connect seamlessly. Therefore, kids get an unmatched building experience where they can safely construct structures as secure as they are imaginative.
In conclusion, LEGO® Monkie Kid™ Mei's Guardian Dragon is not just another addition to your collection but a keepsake you can cherish for years — perfect for learners who love dragons' mythical stories full of iconic characters! With every turn offering something new for learners to discover within battles against mystical creatures!