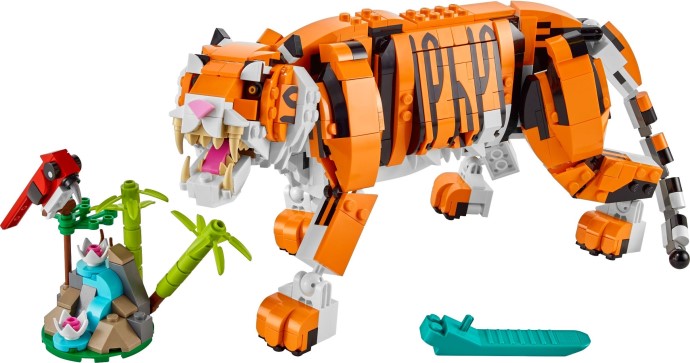 Introducing the Majestic LEGO® 31129 Majestic Tiger Set
For fans of LEGO® and wildlife aged 9 and up, the LEGO® Creator's latest release, "Majestic Tiger," is a must-have. George Gilliatt, a talented designer at LEGO®, has crafted this exquisite model. The set carries the magnificent number of 755 pieces ready to be assembled into a spectacular work of art. The versatile set embodies elegance and creativity, offering three different buildable choices from one kit.
A Remarkable 3-in-1 LEGO® Set
The most extraordinary aspect of the Marvelous 'Majestic Tiger' set is that it allows builders to plunge into the heart of diversity. It presents three different build-and-play possibilities. Initially, architects can assemble an agile orange-hued Tiger paired with a lively little red bird. Not only does this keep the process interesting, but it also provides an additional touch of natural authenticity.
The magic continues as builders dismantle the stripes of the tiger to form an adorable Red Panda. Pairing it with bamboo and a small bonsai tree builds up a fresh and serene landscape worth displaying!
Setting all limits aside, the 3rd-option transforms the Panda's survival instinct into a tranquil Koi Fish swimming amongst moving water lilies. Without a doubt, kids will enjoy sculpting their toys into different forms while stimulating their creative abilities.
Immerse Yourself in an Inspiring Experience
This adventurous ride doesn't merely end with structured suggestions. With infinite boundaries for creativity and imagination running wild, you can delve deep into transforming those 755 pieces into any animal form you wish. This makes every instance spent with the Majestic Tiger unique and exciting.
Perfect Addition for Display Collection
Besides its dynamic playing elements, once assembled, this marvellous creation becomes an appealing display model that could grace any room in your house or make your workspace stand out. The Majestic Tiger measures over five inches high (14 cm), twelve inches long (33 cm), and two inches wide (7 cm). It ensures your labour attains the appreciation it deserves without occupying much space!
A Trusted Companion at Play
Launched on January 1st, 2022, this fabulous LEGO® set assures safety is not compromised while guaranteeing fun! Rigorous testing procedures fulfill child-safety standards making this eye-catchy set not just enthralling visually but safe to handle as well.
An Affordable Price Tag
This compelling LEGO® Creator Majestic Tiger set is available at retail prices starting from £44.99 or $49.99. And given its multiple functionalities and limitless creative possibilities on offer in conjunction with adhering to quality standards, this LEGO® set comes across as a cost-effective investment!
In conclusion, the Majestic Tiger is proof that LEGO® remains dedicated to creating engaging products that add value across all fronts – be it entertainment or development. It offers captivating storytelling opportunities by allowing children and young teens to dive into wild imaginations with its flexibility of either erecting majestic tigers or progressing into creating something entirely new!