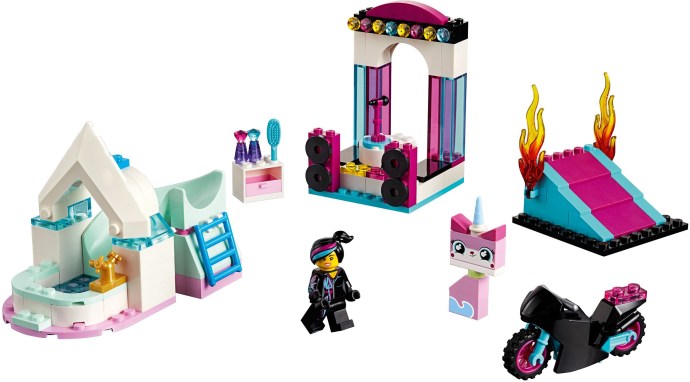 Discover the Creativity with Lucy's Builder Box!
Welcome to the vibrant world of The LEGO Movie 2 with the launch of "Lucy's Builder Box!" Set Number: 70833. A marvel creation by renowned designer Milan Madge, this set was released to the anticipation of LEGO fans on January 5, 2019. This wonderful assortment is specifically designed for younger LEGO enthusiasts, aged five and above.
Value for Money
For just an RRP of £24.99 / $29.99 / 29.99€, you're about to unlock a treasure chest filled with endless creativity and fun! With a quantity of 141 pieces, this brings our price per piece down remarkably to roughly 17.7p or 21.3c – that's something to smile about!
A Bursting Box of Creativity
All aboard on an incredible adventure with Lucy's Builder Box! This set invites children into the fantasy-filled kingdom of THE LEGO® MOVIE 2™, allowing them to shape their own narratives and moments within the movie's exciting storyline. Here, possibility is the only limit passed onto young master builders.
The Elegant Ensemble
This diverse collection features not one or two but three different buildable models! Experience the thrill of racing with Lucy's motorcycle equipped with a ramp, gravity-defying moves on a rotating dance stage or a splashy relaxation session at Unikitty's spa!
Fantastic Figures
The set welcomes two exciting characters from THE LEGO® MOVIE 2™ universe – an up-to-date version of Lucy and an adorably brick-built Unikitty figure. Both are ready for action, promising endless role-play adventures.
Features and Measurements
Riddled with detail and intricacies designed for exploration, these models come equipped with various captivating features. The motorcycle flaunts a space dedicated for Lucy while the ramp showcases two translucent flame elements adding to its flair. The dance stage not only rotates giving space for unlimited loops but also sports a canopy garnished with translucent-colored light elements.
Unikitty's spa calls out for luxurious lounging—with its inviting spa bath complete with tap, arch and translucent-blue water elements—not to forget a convenient washstand incorporated with a brush element! The meticulous detailing greatly enhances imaginative play.
All these create vivid scenes right out of THE LEGO® MOVIE 2™ within the comfort of your own home—a dream come true for fans! Conclusively, each model measures – Motorcycle: over 1" (4cm) high and 2" (7cm) long, Dance Stage: over 3" (10cm) high, 2" (6cm) wide and 2" (6cm) deep and Unikitty Spa: over 3" (9cm) high, 3" (10cm) wide and 2" (7cm) deep.
Conclusion
In summary, whether it's speeding down the ramp on Lucy's motorcycle or dancing in style on the swirling dance stage or simply relaxing at Unikitty's delightful spa – Lucy's Builder Box guarantees countless hours of imaginative play and learning through building creativity.