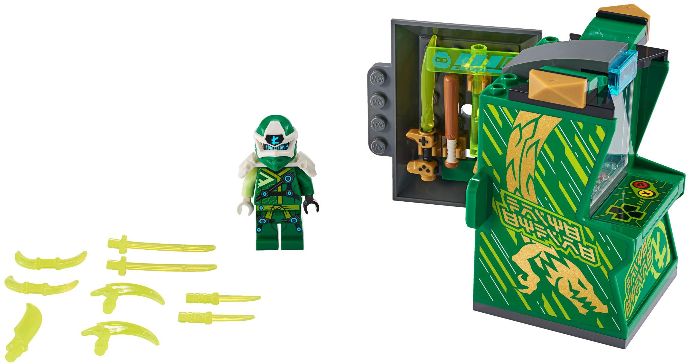 Enter the Ultimate Gaming Universe with the Lloyd Avatar – Arcade Pod
LEGO's foray into the high-adrenaline world of video gaming comes to life with its 2020 release, "Lloyd Avatar – Arcade Pod" set (SET_NUMBER: 71716). An addition to the beloved Ninjago theme, specifically the exciting subtheme of Arcade Pod, this toy is set to ensure a thrilling journey from NINJAGO® City to Prime Empire for its young owners.
A New Dimension in Imaginative Play
This compact yet feature-packed set is not just a toy – it's an immersive adventure experience! The Arcade Pod doesn't just house an arcade machine; its design cleverly caters for secure storage of the two video game-inspired action figures included in the set – Digi Lloyd and the special edition Avatar Lloyd. Bedecked with his signature bat, Avatar Lloyd stands ready for his exciting adventures.
Celebrating Creative Expression
Enabling children to bring their fantasies to life, this set further allows youngsters to select their preferred avatar as they venture into the Prime Empire. This extends beyond simple imaginative play, encouraging children to express themselves creatively with a selection of stickers and accessories for their avatars. Not only do they embark on exciting journeys but also get to personalize these voyages based on their tastes and preferences.
An Engaging Building Experience
Boasting of 48 pieces, the Lloyd Avatar – Arcade Pod challenges and engages young builders aged 7+ in a rewarding construction task. Perfect for independent play or entertaining playdates, this compact arcade toy ensures hours of unlimited fun. It takes little space measuring at 10.8 x 24.7 x 8.2 cm dimensions and weighing only 0.14Kg – making it an ideal travel companion as well!
Inspiring Play Beyond Boundaries
No batteries are required to jump-start fun with this set – all that's needed is a child's boundless imagination. It' s easy-to-follow instructions make building quick and simple. This isn't merely a construction exercise but an opportunity to mindfully illustrate endless narratives in Prime Empire or NINJAGO® City.
The Legos We Love
Like all LEGO products, the Lloyd Avatar – Arcade Pod meets globally acclaimed safety and quality standards. Hence parents can ensure that not only does it offer exceptional play value but also guarantees paramount safety as their little ones go about defeating forces of evil in Prime Empire or generally saving the day in NINJAGO® City!
In essence, the Lloyd Avatar – Arcade Pod enhances creative play by seamlessly blending building skills, imagination, narrative development, and role-play activities all in one package. It's not just a toy; it's a world of endless ninja adventures waiting to be unfolded!