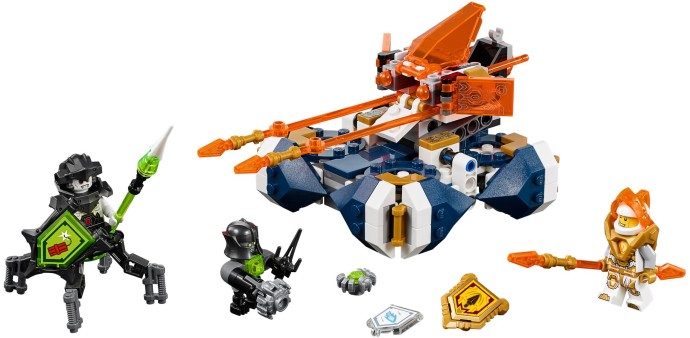 Dive into Medieval Action with LEGO® NEXO KNIGHTS™ 72001 Lance's Hover Jouster!
No adventure is off-limits when it comes to the spectacular LEGO® NEXO KNIGHTS™ Lance's Hover Jouster! This magical set is a part of the engaging Nexo Knights series and was heartily welcomed by LEGO enthusiasts around the globe upon its launch in January 2018. Aimed at inspiring the creativity and imaginations of children aged between 7 and 14, this playset offers an impressive escape into a medieval world of chivalry and technology combined.
Experience Jousting Revolutionised
The showstopper of Set Number 72001 is undoubtedly the reimagined lance's hover jouster itself. Designed for modernity, it features a flexible cockpit created to seat minifigures and armed with two visually striking lances in a vibrant red tone. But that's not all, it's not only about direct combat, there are twin flick missiles to engage adversaries from afar! Warning shields can be adjusted, adding another layer of strategy. With four rotating wheels underpinning this structure, you're ready for some rapid-acceleration jousting. The hover system on the jouster adds an enticing twist as you can simulate zero-gravity battles by simply pushing it in any direction.
Characters that Make Imagination Come Alive
Lance's Hover Jouster doesn't come alone. Included in the 217 piece set are not just one but three character figures! Alongside Lance himself is his adversary Cezar, accompanied by the robotic villain CyberByter Dennis. The weapons on offer range from CyberByter Dennis's planned critter shooter to Lance's finely crafted lance and two other spears. That's enough firepower to spark countless adventures!
Unlock Power with Merlok 2.0 App
Another thought-provoking feature is the compatibility of this LEGO set with the NEXO KNIGHTS™: MERLOK 2.0 app which takes the playroom fun digital. Grant your warrior or vehicle an upgrade in their fight against foes by placing the Merlok Power in the shield holder. Scan shields for NEXO Powers like Dynamighty and Diamond Spear, and even Merlok Power The Lance of Merlok to power up in gameplay! Keep collecting Merlok powers to prevent Monstrox and his army from spreading a digital infection across Knighton.
Reliable Investment for Fun & Learning
This mesmerising playset offers not only endless fun for youngsters but also great value. With a price per piece ratio standing at 9.2 pennies/ cents, Lance's Hover Jouster is ready to deliver hours of entertainment without breaking your bank.
Moral battles between good and evil, strategic planning, architectural skill-building—the LEGO® NEXO KNIGHTS™ Lance's Hover Jouster allows children to explore all this and more while they take part in their unique knightly saga.