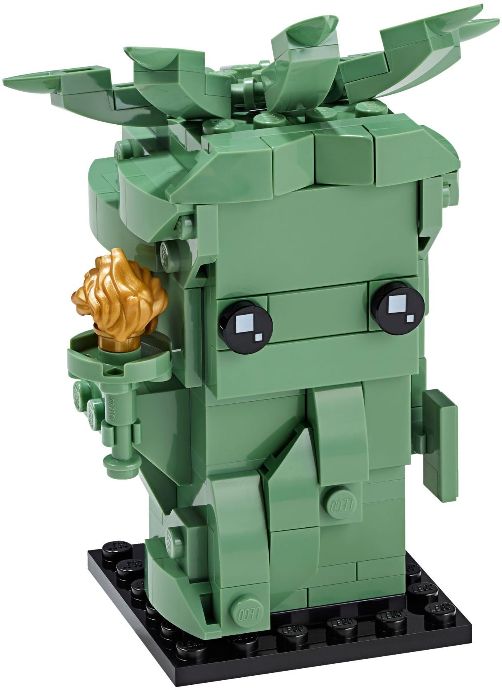 Embrace Patriotism with LEGO® BrickHeadz™ 40367 Lady Liberty Set
Indulge in a trip down memory lane and pay tribute to the embodiment of freedom and democracy with the LEGO® BrickHeadz™ 40367 Lady Liberty set. This masterpiece, inspired by the iconic Statue of Liberty, will undoubtedly add an essence of nationalism to your collection.
A Glimpse Into The Set
The Lady Liberty LEGO kit is a beautiful blend of sophistication and simplicity. Designed for enthusiasts over the age of ten, this 153-piece puzzle recreation echoes the grandeur and elegance of one of America's most recognized landmarks. Priced at a great value at £9.99 / $9.99 / 9.99€, it serves as an economical addition to your assortment.
Get Acquainted With The Artistic Elements
No detail has been overlooked in creating this small-scale representation of Lady Liberty. Each brick contributes significantly to reproducing the iconic monument's majestic persona. Drenched in a distinctive sand-green hue, the set's primary appeal lies in its faithful rendition.
Bearing striking resemblance to the original, the golden torch is another element that stands out and calls for admiration. Reflecting remarkable craftsmanship, these specifics are designed to evoke a sense of awe and admiration among LEGO fans.
A Gift That Speaks Volumes
The LEGO® BrickHeadz™ 40367 Lady Liberty is not merely a great opportunity for LEGO connoisseurs to indulge in some imaginative playtime, but also makes for an outstanding present option. Share the spirit of liberty and inspire close ones to savour their freedom with this unique piece that sends a strong message beautifully encapsulated within assembled bricks.
Display With Pride
There's something truly fulfilling about completing Lego sets piece by piece, especially when the final assembly stands tall as an epitome of liberty! The Lady Liberty set, once complete, measures up to be around 4" (11cm) tall – a perfect size for displaying year-round on your desk or showcase!
To sum up, if you're looking for a fun and meaningful addition to your Lego collection or simply hunting for a fascinating gift that will surely delight children and adults alike, look no further than the LEGO® BrickHeadz™ 40367 Lady Liberty set!