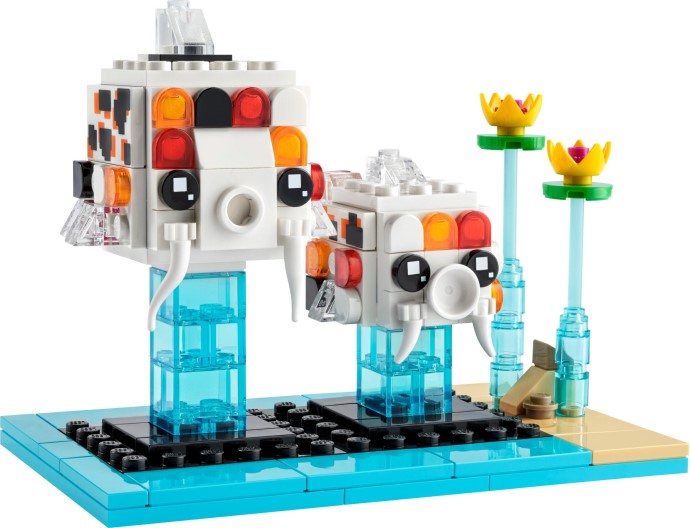 Introducing the LEGO® BrickHeadz™ Koi Fish Set
If you're a fan of all things aquatic and imaginative, there's a new LEGO® set that deserves your attention. Allow us to introduce The BrickHeadz™ Koi Fish Set (40545). Extremely pleasing to the eye and endearing in its concept, this set was designed by the reputable Leonard Bahro and released in August 2022.
A Deep Dive into The BrickHeadz™ Koi Fish Set Details
This captivating LEGO® set is part of the widely adored Pets subtheme under the BrickHeadz theme, adding a whimsical twist to your typical LEGO® models. Comprised of 203 individual pieces, each meticulously crafted, it presents a fun and rewarding challenge to builders above the age of 8.
Notably, this isn't just any ordinary build; on completing it, you are greeted by an adorable adult Koi fish accompanied by a small fry, both adorned with orange and black studs swimming in their own made-to-scale brick-built pond. Taking its inspirations from nature's own vibrant palette, this easy-to-build model captures the elegance and grace of koi fish through LEGO's distinctive brick language.
Design and Dimensions
The finished model is elegantly compact – measuring 15.7cm in length, 14cm in width and 7cm in height (or approximately 6.2 x 5.5 x 2.8 inches for those across the pond). Despite its modest size, it packs plenty of details that make it an eye-pleasing model with a total weight of just about 0.21Kg (roughly 0.45 lbs).
Price Point
The BrickHeadz™ Koi Fish set comes at a comfortable price bracket too with an RRP of £13.49 / $14.99 / €14.99 depending on where you reside. This translates to about 6.6p, 7.4c or €0.07 per piece, which considering the love for detail each piece holds can be considered quite cost-effective.
Be Quick or Miss Out: Limited Availability
The Koi Fish set was only available till December end of its launch year, making it an exclusive addition to your collection if you were able to get your hands on one before the retire date.
A Display-worthy Build
Suitable both as a gift or as a delightful addition to your own desk, this colourful model stands out not just because of its dashing aquatic hue palette but also due to its unique concept brought alive innovatively through LEGO's craftsmanship.
In conclusion, whether you are a seasoned LEGO® enthusiast or someone who simply appreciates good designs and immersive builds, the LEGO® Brickheadz™ Koi Fish is bound to be viewed as an understated treasure within your collection.
Product Specs
Product Specs
Product Name:
Koi Fish
Pieces
203
RRP
£13.49 / $14.99 / 14.99€
Release Year
2022
Theme
BrickHeadz
Instructions
Lego Koi Fish Instructions