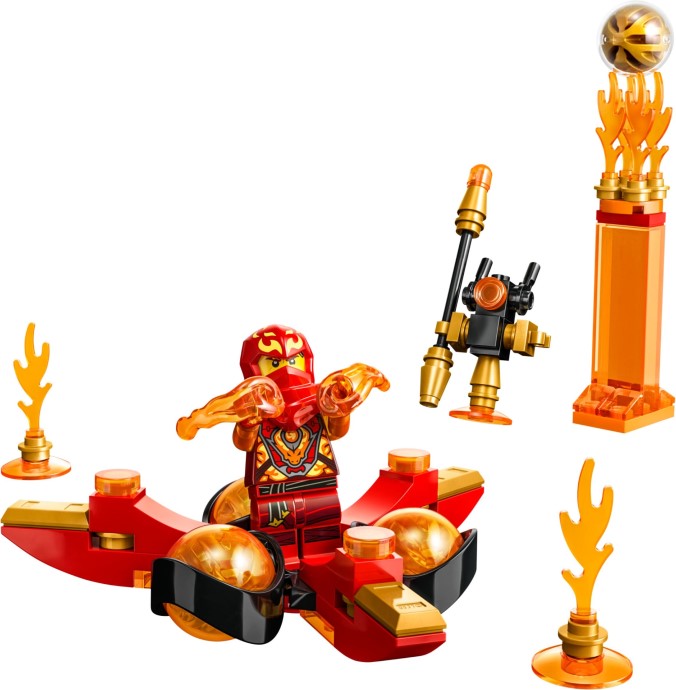 Unleashing the Adventure with Kai's Dragon Power Spinjitzu Flip
At the brink of summer 2023, LEGO releases yet another thrilling delight for all Ninjago fans – the dynamic Kai's Dragon Power Spinjitzu Flip. Designed for children aged six and above, this interactive playset offers endless amusement to ninja aspirants as they strive to enhance their hero, Kai's, Spinjitzu skills. With a respectable, pocket-friendly price tag, this set is sure to fire up the imaginations of young designers worldwide.
A Glimpse into the Powerful Set
The vividly designed set contains 72 sturdy LEGO parts for hours of engaging playtime. In the heat of battle, children can place their chosen hero, Dragon Power Kai, inside an interactive spinner and watch amazed as he flips to beat the challenges tossed his way. The ultimate aim is simple but thrilling – steer clear of flaming obstacles and crush the formidable Imperium Droid figure while seizing the golden dragon energy core element glittering atop a flaming holder. This gritty quest will certainly spark kids' competitive spirits!
The Undeniable Appeal of Minifigures
It's impossible not to acknowledge the designing marvel that are minifigures in LEGO sets. Accompanying Dragon Power Kai in this mesmerizing set is an intricately constructed Imperium Droid figure that lends an additional layer of challenge to the gameplay. With its ability to tip from side to side when hit, it brings in heightened unpredictability to keep young players on their toes.
Perfecting Your Ninja Flips
The centrepiece of this toy set is undoubtedly the innovative flip feature. By simply striking one arm of the spinner holding Dragon Power Kai, your child can orchestrate spectacular backflips! The stakes mount exponentially when it comes with dodging flame elements and snatching out-of-reach goals like the prized golden dragon energy core.
Expanding the Collection
One of the greatest appeals offered by LEGO gaming sets lies in their potential for collection and expansion. Keeping this spirit alive are two other enchanting interactive action toys available separately – Nya's Dragon Power Spinjitzu Drift (71778) and Lloyd's Dragon Power Spinjitzu Spin (71779). These sets share Kai's theme of dragon-powered pursuits and each contains unique energy cores ready to be won!
The LEGO Builder App: A Guided Journey
To round off such a delightful package is the helpful companion in the form of a digital guide – LEGO Builder app. It allows youngsters to zoom into intricate 3D models and rotate them for easier construction while tracking their progress at a personal pace. LEGO truly excels in turning even building time into an unforgettable digital adventure!
Celebrating Quality and Safety with LEGO
Dedicating over six decades to quality assurance and constant innovation, it's not surprising that LEGO bricks are renowned worldwide for their perfect fit every time. Meeting stringent global safety standards, these bricks offer parents peace of mind without compromising on children's fun-filled experience.
To Summarize…
Kai's Dragon Power Spinjitzu Flip presents a splendid opportunity for kids to master their ninja moves while enjoying playful gymnastics from a favorite Ninjago character. A modest investment guarantees countless hours filled with action-packed playtime due its convenient dimensions making it portable – perfect even for playdates!