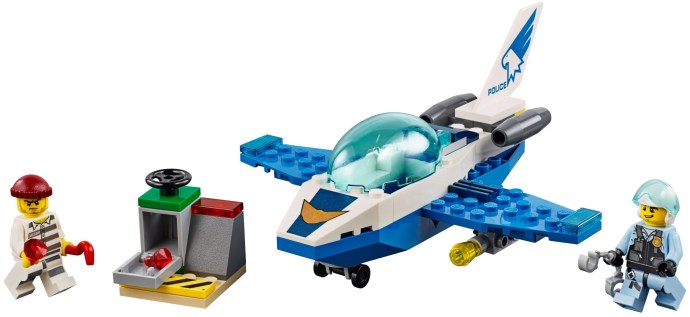 A Closer Look at the LEGO Set 60206: Jet Patrol
Launched on December 27, 2018 as part of the City and Sky Police subtheme, LEGO's Jet Patrol set has captured the attention of children aged 4 years and above. This attractive set combines creativity with thrill, promising hours of fun as kids immerse themselves in high-speed chases in the skies. Let's delve further into what makes this 2019 set a unique addition to your child's toybox.
A Detailed Examination of the Jet Patrol Set
Upon opening the box, children will find 54 artfully crafted pieces awaiting their deft touch. The assembly process has been made easy for children just stepping into the realm of LEGO, thanks to the Starter Brick base. This ingenious concept gives children both confidence and creativity, turbocharging their journey into independent building. With an intelligently priced at £7.99 or $9.99 or 9.74€, parents will find it amply worthwhile considering the immense value it brings in honing a child's motor skills.
Packed with Adventure
The Jet Patrol set is no mundane construction project. It revolves around an engrossing backstory that features two characters— a sky police pilot and a crook— both rendered in astounding detail as LEGO City minifigures. Children can role-play thrilling aerial chases as they fly their built plane featuring an opening cockpit for easy insertion of minifigures.
Enhancing Creative Functions
This Sky Police set doesn't stop at flying adventures. There's also a mini safe box with an opening door for storing loot – adding another dimension to the chase story. Using a crowbar and handcuffs accessory elements, kids can enjoy endless narratives while playfully hunting for gem elements hidden inside.
A Learning Tool Disguised as a Toy
LEGO sets are more than just toys – they are tools that allow young minds to grasp basic principles through play effectively. At a comfortable weight of 0.14kg and handy dimensions of 15.6 x 14 x 6 cm (6.1 x 5.5 x 2.4″), Jet Patrol is designed to be easily managed by small hands.
The Perfect Gift for Sky-High Dreams
If you aim to inspire a sense of adventure while fostering creativity and patience, then LEGO's Jet Patrol is the perfect gift option for preschoolers and young kids alike. No wonder, it continues to be one of their most popular sets since its release almost two years ago!