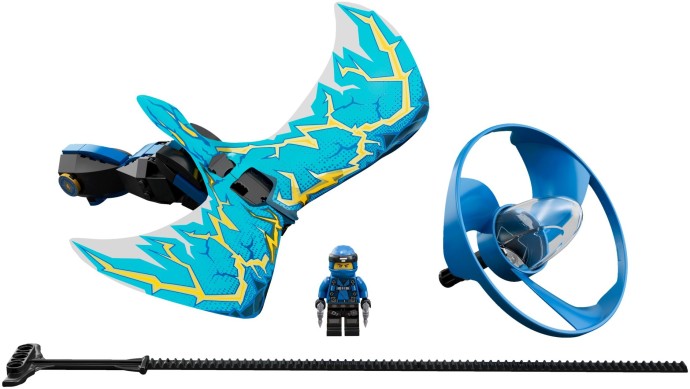 Unleash Legendary NINJAGO® Adventures with Jay – Dragon Master Set
Fly into a world of thrilling ninja excitement with the LEGO® NINJAGO® 70646 Jay – Dragon Master set. Unveiled on the first day of June in 2018, this exquisite set has been intricately designed to stir the imagination and create unforgettable playtime experiences. Intended for LEGO and ninja enthusiasts between 8 and 14 years, the set brings incredible aerial action home.
Features that Fire up Engaging Play
Decked out with a magnificent collection of 92 pieces, the Jay – Dragon Master set is indeed a treasure trove for imaginative young builders. The set comes with an extraordinary rip-cord-powered flyer that allows your ninja protege to perform gravity-defying stunts. With both the flyer's blade element and amplified dragon wings, your youngster can delve deep into exhilarating NINJAGO® challenges.
An Enchanting Ninja Experience in Every Box
Every box of the Jay – Dragon Master set is equipped with a unique LEGO® NINJAGO Jay minifigure to heighten role-playing opportunities and launch countless daring dragon duels. It also boasts a buildable LEGO brick handle and a capsule to carry the fearless minifigure. A round 2×2 LEGO tile marked with Jay's heroic insignia completes the spectacular ensemble.
Transform Your Surroundings into an Epic Ninja Battleground
This innovative LEGO brick set offers more than just construction fun. Your little ninjas are not only granted the chance to perform well-known moves like "The Dragon Strike" or "The Eye of The Dragon", they can also invent their own tricks or even better – design an entirely new game! The Jay – Dragon Master flyer beckons players to interact with their environment and devise impromptu ninja contests.
Extend the Fun with Other Dragon Masters Sets
Even though it retired by the end of December 2018, fans of the Jay – Dragon Master set can continue their high-flying fantasies by adding other products from LEGO's Dragon Masters subtheme. Options such as Golden Dragon Master, Cole – Dragon Master, Kai – Dragon Master, and Zane – Dragon Master sets are available for intensifying their aerial ninja chronicles.
The LEGO® NINJAGO® 70646 Jay – Dragon Master does undoubtedly pave the way for engaging play around every corner. While being an excellent value for its retail price, it allows proactive youngsters to harness their creativity and challenge themselves while recreating their favourite ninja tales or inventing entirely new ones.