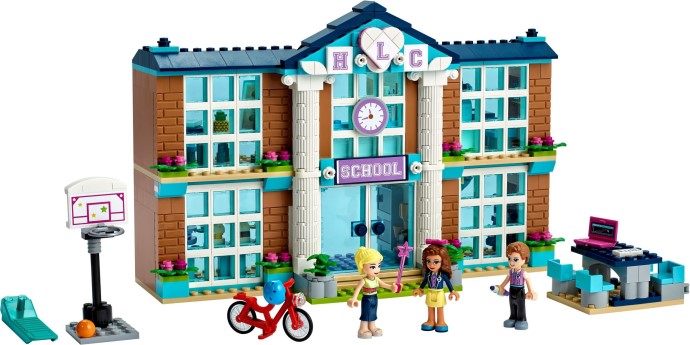 A Closer Look at the Heartlake City School LEGO Set
For countless LEGO and Friends fans, the Heartlake City School set (41682) has an exciting appeal. It is a playset that captures the vibrancy of school life within its beautifully constructed walls. Joel Baker, the designer of this masterpiece, successfully transforms a typical school day into an amusing and interactive experience for kids.
Design: A Miniature Masterpiece
The architectural beauty of the Heartlake City School can't go unnoticed. Spread across two flabbergasting floors you'll discover a world of wonder echoing real-life school scenarios. From the dedicated science lab with a meticulous microscope and cute ladybug to scrutinize – to specially designed rooms for art, drama, and music activities, this model does not scrimp on detail.
Additionally, its creative flair extends to a stocked canteen with ample seating area and detailed food accessories. And just like in real schools, there are hallway features like lockers and an impressive trophy display.
Captivating Characters: Friends and Teachers
This playset isn't just about the gorgeous structures. An inseparable part of the Heartlake City School are its inhabitants – three mini-doll figures. Alongside these charming figures are familiar LEGO® Friends characters and a teacher figure allowing aspiring young learners to design their own syllabus or take on an educating role themselves. There's also the brand new character Julian, who needs a friendly guide around his new school environment.
A World of Real-Life Role-Play Fantasies
Brimming with its 605 pieces, this set is built not only as a rewarding building task for kids aged six and above but also as an arena bursting with countless real-world narratives to explore. The extensive array of pretend school toys such as dress-up props for drama, assorted musical instruments for jam sessions, fascinating brushes, paints and even an easel for little artists ensure hours of imaginative fun beyond building.
Fulfilling Build Experience: Quick Specifications
The Heartlake City School Set has all it takes to keep youngsters glued in delight. With dimensions measuring 6 in. (17 cm) high, 9 in. (25 cm) wide and 3 in. (9 cm) deep – it comfortably sits on a sturdy baseplate making it an attractive standalone display that adds charm to any setting where building passion thrives.
A Gateway to Interactive Build World
Revealing more than just an engaging build platform, the Heartlake City School set introduces ambitious builders to the lively world of Heartlake City toys – teeming with cool vehicles, lifelike buildings along with everyday heroes that brings playful learning nearer reality. And just like any other LEGO® toy sets – it is tested rigorously to meet international safety and quality standards ensuring that kids enjoy secure and happy play experiences each time they delve into their creative journeys.