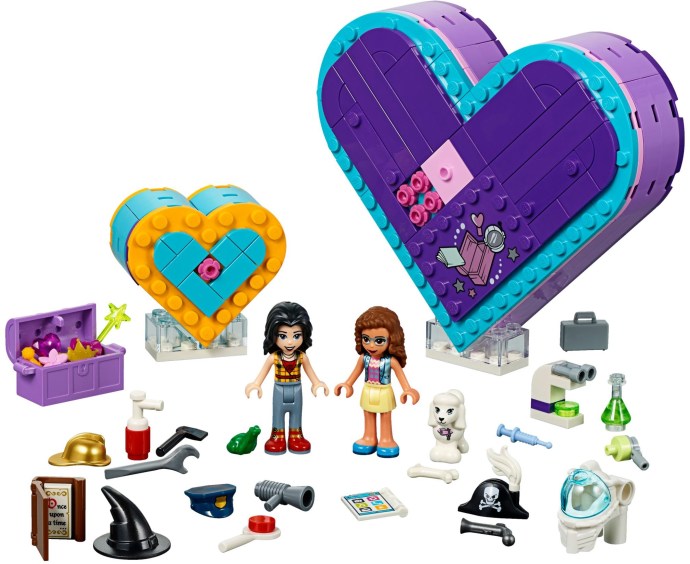 Exploring the LEGO Friends Heart Box Friendship Pack
Let's embark on a voyage of imagination and creativity with the ingenious LEGO set 41359, fondly known as the Heart Box Friendship Pack. Part of the delightful Friends theme, this playset, focusing on heart boxes was first introduced in 2019, and its charm was appreciated by many across the globe. This enchanting set offers a mesmerizing world of make-believe for children aged six years and above.
Exquisite Design
The distinctive aspect of this remarkable LEGO set is its unique design. At first glance, it presents itself as two heart-shaped boxes; however, upon unveiling, it discloses a cornucopia of whimsical surprises that delight both big and small. Weighing a mere 0.31Kg and with easy-to-carry dimensions of 26.2 x 19.1 x 6.1 cm, this set provides an extravagant experience within its small size.
A Bouquet of Accessories
A litany of accessories accompany these boxes, offering countless storytelling potential. Props for firefighters, police officers, astronauts, pirates and doctors are included to inspire endless hours of imaginative play. Each box is filled with a scramble of smaller components such as hats, signs, wrenches, pistols and even a microscope. It also includes magic tools for your little witches 'in-training' out there!
Friendship Aplenty!
The Heart Box Friendship pack not only comes with an array of accessories but also includes two delightful mini-dolls: Vicky and Olivia along with their pet friends a poodle and a frog. As one friend reads an enthralling story from the treasure chest's storybook, the other can reenact it using various dress-up sets – providing an unforgettable narrative experience for your developing storyteller.
Endless Possibilities
The blend of story-telling elements with vast role playing props allows children to create multitudes of different scenarios. They can enjoy being an astronaut wielding a magic wand or even solve crimes in tutus! This combo set was designed to offer unlimited freedom to mix-and-match elements sparking more innovative stories every day. And since all elements fit securely into their respective heart boxes, including the dolls on the lids which double up as stages, they are perfect for imaginative fun on-the-go!
Pocket-Friendly Pricing
Launching at an affordable price of £14.99 / $19.99 / 19.99€, thus giving you value-for-money at merely 7.5p / 10c per piece! The Heart Box Friendship Set truly is both child-friendly and budget-friendly; it's a beneficial two-for-one feature that makes this exceptional LEGO product even more enchanting!
In conclusion, LEGO Friends 41359 Heart Box Friendship Pack is not just another toy-set; it's an engaging tool that encourages creativity among children through immersive play and imaginative storytelling while also providing good value for parents.