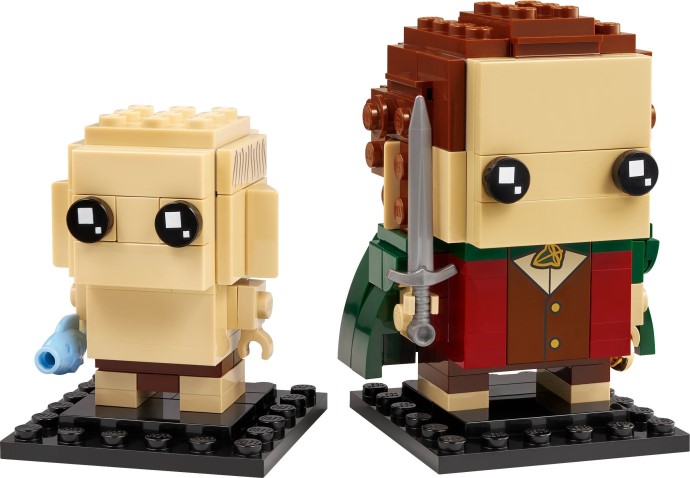 Explore The Ring Saga with LEGO's 'Frodo & Gollum' Set
Riding on the wave of timeless popularity of The Lord of the Rings™ epic, LEGO® has introduced a remarkable addition to its renowned BrickHeadz™ family which is crafted specifically for die-hard Middle-Earth aficionados. Aptly named as 'Frodo & Gollum' (40630), this set is designed to offer a unique, delightful experience to ardent fans and inspired builders alike.
Walk Through the Memory Lane with LEGO® BrickHeadz™ Frodo™ & Gollum™
The life-like representation of Frodo and Gollum through intriguing brick structures makes this set a must-have collectible item that rekindles the nostalgia of the legendary saga. The ingenious replication depicts a full-size Frodo dressed in a finely detailed cloak, firmly holding the notable ring and a sword. Demonstrating thoughtful attention towards maintaining character relativity, the beloved character of Gollum is depicted in a smaller size, clutching a fish that signifies his appettite in the series.
A Treasure Trove for Builders and Collectors
If you are among those LEGO® enthusiasts who love to expand their collection with artistic pieces, then 'Frodo & Gollum' (40630) is one set you can't afford to overlook. It is not just another assemblage of bricks, but features beautifully intricate BrickHeadz characters that bring alive J.R.R. Tolkien's masterpiece through LEGO. At an affordable price of £13.49 / $14.99 / 14.99€, you get a total of 184 thoughtfully crafted pieces, each adding tremendous value to your build and display collection.
Age Limit Just a Number; Fun Unlimited!
Whether you're an adult or young tween fascinated by brick building, this fascinating set offers countless hours of joyous building experience for everyone aged 10 years and above. Given the significant pieces count and complexity involved, it provides a perfect hands-on project for honing problem-solving skills while having fun.
Crafted by Expert Hands
Globally recognised designer Leonard Bahro has used his finesse to recreate these iconic characters with utmost precision. In true-to-life proportions, Frodo stands over 3 inches while Gollum slightly shorter at about 1.5 inches. Each character comes along with a baseplate to serve as an attractive display model, capturing the essence of Middle-Earth in compact dimensions of 19.1 x 14.1 x 6.1 cm (7.5 x 5.6 x 2.4 in).
The Wait for Middle-Earth Lovers Ends
Taking shape after meticulous planning and design-ingenuity, the 'Frodo & Gollum'(40630) set made its grand entry on January 1st 2023 much to the delight of Lord of the Rings enthusiasts around the world who were eagerly awaiting its release.
In conclusion, whether you are an emergent LEGO builder seeking fresh challenges or an ardent Lord of The Rings fan hungry for new collection items or both, your search ends with LEGO's BrickHeadz 'Frodo & Gollum'. Ready for an epic journey to Middle-Earth?