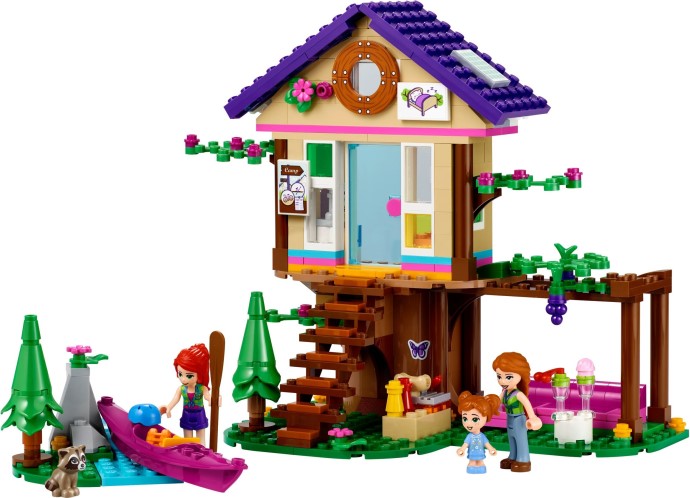 Adventure and Fun Awaits with the LEGO® Friends Forest House (41679)
Immerse yourself in an enchanting forest sanctuary with the LEGO® Friends Forest House (41679). Launched in June 2021, this picturesque tree house offers unlimited explorations and adventures to nurture every child's love for nature and make-believe play. Designed specifically for children aged six and up, this set promises hours of creative fun and entertainment while fueling their imaginations.
A Dream Woodland Retreat
Take a break from the hustle and bustle of city life and let young minds venture into the tranquility of woodland living with LEGO® Friends Mia and her delightful family. Sporting 326 well-crafted pieces, this set captures the essence of a quaint forest refuge beautifully detailed and teeming with remarkable features for children to discover.
The outside is adorned with a cozy patio complete with a sofa and barbecue for endless afternoons of outdoor activities. Inside, you'll find a charming sleeping area, where mini-dolls can catch their beauty sleep after a day well-spent discovering the forest's secrets. The entrance leads to a basin and a toilet – small but essential details that add to the realism of this woodland home away from home.
An Extension of Adventure
Beyond the confines of the Forest House, young adventurers can navigate the rapids using the included kayak. The separate river scene adds an exhilarating twist to their woodland escapade offering new challenges and adventures to undertake. Also included in this set are Ava, Mia's micro-doll friend, and an adorable raccoon figure, perfect companions for their journey.
Boundless Playtime
With this treasure trove of nature-inspired features and accessories, there's no limit to where children's imaginations can wander! They have everything they need – from ketchup and mustard bottles to a camera for capturing unforgettable moments in the wild – all packed within this single LEGO® Friends set.
A Great Addition to The Heartlake City Collection
The Forest House aligns perfectly with other sets from the Heartlake City collection allowing children to expand their horizons even further. With its intricate details reflecting everyday settings and relatable characters, it lays out wonderful opportunities for kids to explore the essence of friendship immersed in engaging play.
Exceptional Quality you can Trust
In true LEGO® fashion, this set maintains high industry standards matched by stringent safety measures. Ensuring compatibility across all pieces, LEGO® only presents thoroughly tested toys to assure kids smooth connecting and pulling apart experiences as has been expected since 1958.
To conclude, with guaranteed adventure at every turn, let your little ones escape to the hidden wonders of nature with their favourite friends. They're sure to find magic in every corner as they unravel exciting stories within LEGO® Friends Forest House (41679).