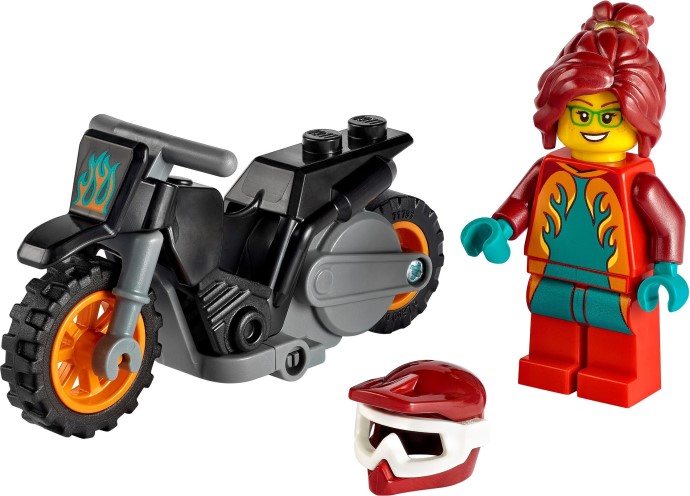 Experience Thrilling Adventures with LEGO® City Fire Stunt Bike (60311)
Immerse yourself in a world of exhilaration and daredevilry with the exceptionally inventive LEGO® City Fire Stunt Bike playset, released as part of the flamboyant Stuntz subtheme! Unveiled in 2021 and officially launched on January 1, 2022, this audacious playset is bound to captivate imaginative souls and ignite endless amusement.
A Daring Addition to Your LEGO® City Collection
Tailored for adrenaline-filled playtimes, the unique Fire Stunt Bike set is more than just a toy. This cutting-edge playset introduces you to the dynamic world of stunts and daredevilry, providing the opportunity for fiery action-packed performances. It includes a fabulous flywheel-powered stunt motorbike, capable of performing jaw-dropping manoeuvres with just the push of your hand!
A Heroic Companion
Complete your adventurous journey with the spunky firefighter Freya McCloud mini-figure straight from the captivating world of LEGO® City Adventures TV series – your trusted companion for every daring escapade. This formidable duo isn't just a vehicle for play but also opens up a universe teeming with thrilling narratives and heroic tales that inspires young ones to create their own realities.
Pocket-friendly Fun
The Fire Stunt Bike, retailing at £6.99 / $7.99 / 7.99€, contains only 11 masterfully crafted pieces that form part of the immense LEGO® universe. Despite its miniature size and unassuming weight of 0.05Kg (0.1 lb), it boasts impressive dimensions measuring at 9.1 x 12.2 x 4.7 cm (3.6 x 4.8 x 1.9 in). And while it may be suitable for kids aged 5 and up, this marvellous assembly offers an ageless experience, exciting both young and mature LEGO® enthusiasts alike.
The Gift of Immersive Gaming
Whether you're looking to treat an adventurous young mind on Christmas or seeking the perfect birthday gift, look no further. The Fire Stunt Bike, besides being an exceptional standalone set, pairs wonderfully with other sets from the enticing LEGO® City Stuntz series amplifying one's immersive gaming experience.
User-friendly Building Guides
Equip your child with more than just building blocks; give them tools that will help them master their building skills! The Fire Stunt Bike set includes a printed building guide as well as a free Instructions PLUS access available on the free LEGO® Building Instructions app. With interactive features like zoom in and out or rotate viewing tools, this guide is designed to turn every budding builder into an expert constructor!
A Legacy of Quality
Riding on the reputation established since 1958, all LEGO® bricks and pieces are produced following stringent industry quality standards ensuring consistent fun with compatible parts that are easy yet challenging to assemble – keeping your safety in mind without compromising on your creative liberty!