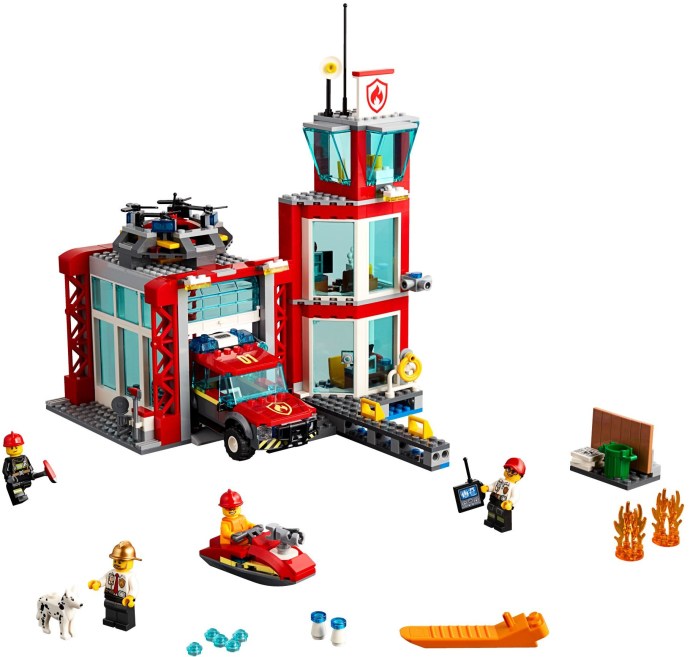 Dive into the Blaze Battle with LEGO® City Fire Station Set
Feel the burn with the exciting LEGO® City Fire Station set, a thrilling representation of city heroes in action! With the careful balance of complexity and playability, this set sparks creativity in builders over the age of 5 through its intricate design and elaborate features.
The Heart of the Fire Station
Breathing life into a city landscape, the centerpiece of this set—the three-level fire station—boasts an impressive office, relaxation room and scout tower. With your imagination at full throttle, picture yourself managing dire situations from the control room or taking a much needed break in the comfort room. For aerial surveillance, a scouting drone with spinning rotors and camera is included, making it easy to track down fires from above.
An Arsenal of Firefighting Tools
When duty calls, speed off in your fire department off-road vehicle equipped with a new-for-January-2019 working light and sound brick, bringing an incredibly immersive experience to young firefighters. The indispensable stud-shooting fire hose even has lever-controlled water elements which simulate putting out hazardous blazes. A trusty water scooter adds another rescue option for aquatic emergencies.
Tiny Details that Matter
Including countless stimulating details that fuel imaginative play, this set comes with accessory elements like a stud shooting fire extinguisher, 6 water elements, telephone, television, and even popcorn for those sparingly quiet days at the station! There's also a remote-control element for commanding your scouting drone. Don't forget our brave group of 4 minifigures: a fire chief, 3 firefighters and their loyal fire-station dog!
A Creative Journey of Over 500 Pieces
The 60215 Fire Station set packs over 500 pieces unlocking hours of patience-building assembly. The sheer size is an utter delight – station standing at over 11" (28cm) high, 8" (21cm) wide and 10" (27cm) deep; off-road vehicle measuring over 2" (6cm) high, 4" (12cm) long and 1" (5cm) wide; and accompanying water scooter solidifying its presence by measuring over 2" (6cm) long and 1" (3cm) wide.
Summarizing the LEGO® City Fire Station Experience
In conclusion, be it creating high-tense rescue operations or simply decorating your existing LEGO® cityscape with more communal structures; this Fire Station set from LEGO® City Fire subtheme is sure to impress toddlers and adult collectors alike. Released back in January of 2019 and retired by the end of December 2021 makes it one iconic item that redefines imaginative story-telling among aspiring junior builders.