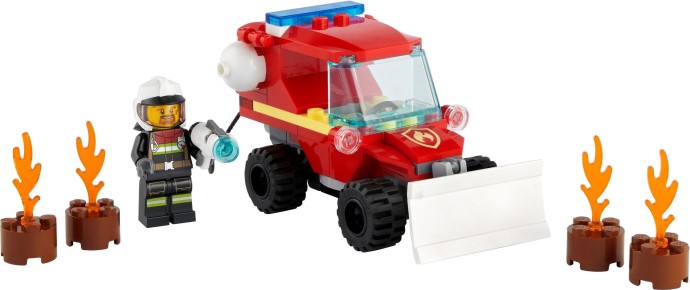 Explore the Fascinating World of Firefighting with the LEGO Fire Hazard Truck
If you're looking for an immersive toy set that encourages creativity and aids in cognitive development, look no further than the Fire Hazard Truck brought to you by the world-renowned LEGO franchise. Part of its City theme, this incredible LEGO set lets your little ones get a taste of firefighting adventures on a miniature scale!
A Glance at the Fire Hazard Truck Set
Officially released on January 1, 2021, the Fire Hazard Truck (set number 60279) belongs to the subtheme 'Fire' under the overarching LEGO City theme. Designed for children aged five and above, this stellar LEGO creation was a staple playset throughout 2021 until it retired on December 31st of the same year. Compact and convenient, the completed model measures an accessible 15.7 by 14.1 by 4.5 centimeters and weighs just about 0.13 kilograms.
Components That Fuel Imagination
This superb playset features a total of 87 LEGO pieces which come together to form a nifty, steerable fire truck complete with a plow and fire hose. Adding a touch of reality are uniquely designed LEGO logs ablaze with flames that kids can "sweep away" using the fire truck's front plow end. Toy firefighters can even "extinguish fires" by shooting water elements from their stud-shooter fire hoses.
Nurturing Budding Master Builders
The set includes conventional printed instructions as well as Instructions PLUS, an innovative interactive guide available on the free LEGO Building Instructions app. This exceptional tool not only includes zoom and rotate functionalities but also empowers young builders using fun, easy-to-follow steps.
An Assemblage of Adventures
With exciting open-ended adventures mirroring real-life situations, LEGO's City Fire sets like this one not only enhance creativity but also instil critical-thinking skills in young minds. Featuring vibrant buildings, realistically detailed vehicles and fun characters, these playsets bring children's imaginations to life like never before.
Uncompromising Quality and Safety
LEGO upholds stringent industry standards, ensuring that each component included in their sets is compatible, easily connectable and durable for extended play sessions. Their unwavering commitment towards safety is reflected in their rigorous testing procedures where pieces are dropped, heated, crushed and analysed to make sure they meet global safety standards.
Final Thoughts
The affordable price tag of £8.99 / $9.99 / 9.99€, coupled with its many action-packed features and high-quality components make this kit an ideal gift for any occasion. It's no surprise that the Fire Hazard Truck set sparked joy among kids with its innovative design offering both educational value and entertainment!