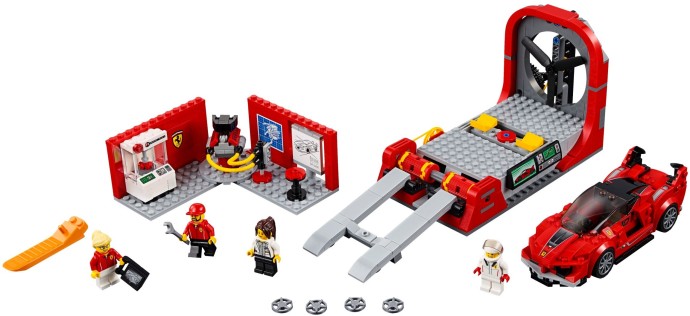 A Detailed look at the Ferrari FXX K & Development Center Lego Set
The exhilaration that comes with unboxing a new lego set is undefinable, and this feeling is further incensed when the set in question is the iconic Ferrari FXX K & Development Center Set from LEGO's Speed Champions series. Launched back in March of 2017, this contained almost 500 intricate pieces to assemble, straight from the adored subtheme of 'Ferrari'. As one of the most engaging builds within its price range, it truly encapsulated the joy of construction coupled with the thrill of motoring.
Engineered For Excitement
The Ferrari FXX K & Development Center isn't just about assembling blocks, it's an immersion into an adventure. Illustrated through an array of stunning pieces and extensive detail, this set transports you to a dynamic world of technology, speed and engineering precision. The model includes a feature-packed development center that captivates the imagination with its wind tunnel and functioning roller set-up – perfect accompaniments to your elegantly built miniature Ferrari FXX K car.
Immersive Details Enhancing Play Experience
The play-starting elements are noticeable throughout, bestowing a sense of realism that really activates one's imagination. The set's test lab offers budding engineers and little drivers a fascinating peek into design boards and computer monitors. Additionally, with blueprints for the engine, a 3D printer and car model at their fingertips, these future car designers can explore the evolution of the Ferrari FXX K at unmissable magnitudes.
More Than Just A Car
The beautifully crafted LEGO version of Ferrari FXX K acts as a centerpiece, adorned with authentic details worthy of high praise. Accurately designed to mirror its real-life counterpart, this build features functional components like rubber tires and a minifigure cockpit ready to house your little race driver.
Packed With Accessories
This set also throws in glitzy accessories like the helmet for your dedicated Ferrari driver and also comes equipped with handy tuning tools like wrenches and data pads for his trusty engineers. These added nuggets just boost the excitement while taking you deeper into the racing world.
A Worthwhile Investment Into Adventure
Considered apt for ages 8-14, but surely enjoyable for seasoned Lego enthusiasts too; this set hits home when it comes to value for money. It offers not just exclusive bricks or minifigures but experiences, making it a remarkable addition to any arsenal of LEGO sets. Despite being discontinued as of December 2017, its impact lingers on world over, keeping fans in perpetual awe.
Of course, these are mere words – owning such an iconic representation is where the true magic lies!