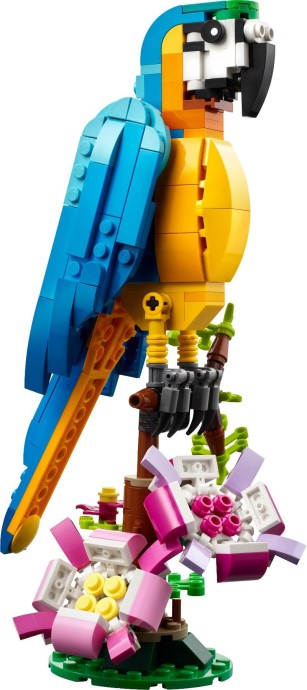 Discover the Wonders of the Exotic Parrot LEGO® Creator 3in1 Set
Treated with a brush of imagination and creativity and nestled comfortably in the LEGO® Creator collection, welcome the Exotic Parrot (31136) playset. Emulating the exotic flair straight out of the real rainforests, this ensemble stands tall aiming to captivate budding builders and ardent animal enthusiasts aged seven years and above.
Dive into a Three-fold Adventure
The greatest charm of this mesmerizing set lies in its 3in1 feature allowing young minds to traverse through different dimensions of building excitement. With 253 LEGO pieces waiting to be transformed, builders can bring to life a vibrant parrot perched on a tree branch and further unfold their creative wings to reconstruct an agile fish exploring underwater depths or perhaps, a quick-witted frog ready for some leaps and bounds!
Moveable Magic
What makes this amazing Lego creation a notch higher is its impressive maneuverability. With every detail intricately designed, our parrot friend is capable of rotations while planted on a twig coupling it with wing and tail movements. Similarly, the magic extends to our quirky fish which can wiggle upward and downward, portraying life-like movements while the lively frog awaiting its turn, is detailed with movable legs.
Augmented Fun with LEGO® Builder App
Linking physicality with digitality, the LEGO Builder app promises an enhanced building experience. Young creators can revel in the virtual realm, zooming in to inspect details closely, rotating their models for the best view and saving sets as they progress through their builds – all at their fingertips.
A Rewarding Journey
The magnificent Exotic Parrot playset is not only visually stunning but it also serves as an interesting educational tool. Setting forth challenges yet cohesive construction process for young minds can be confidently cited as an ideal reward or a thoughtful birthday present.
Compact Companionship
The relatively portable size of our feathered gem measuring over 8.5 in. (22 cm) high, 4 in. (11 cm) long and 4.5 in. (12 cm) wide, ensures kids can preserve their treasured creation on any journey.
Expansive Exploration with LEGO® Creator 3in1 Sets
The exotic parrot does not fly solo! The complete LEGO® Creator 3in1 series unfolds boundless play possibilities including sets such as the Space Shuttle (31134), Beach Camper Van (31138) and Cozy House (31139).
Premium Quality & Safety Assurance
Holding true to more than six decades-long tradition of excellent quality, dependable LEGO® bricks ensure smooth operational dynamic especially during pulling apart sessions. Meeting strict global safety standards only further reinstates their commitment towards ensuring a safe playing experience.