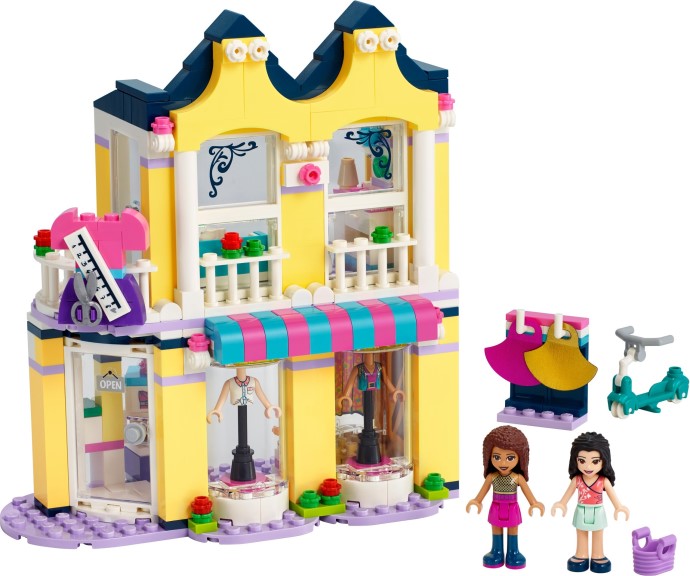 A Close Look at Emma's Fashion Shop: LEGO Set 41427
Are you all set to dive into the magnificent world of fashion with The LEGO Friends? Allow us to introduce Emma's Fashion Shop, a delightful addition to the Heartlake City subtheme. Both imaginative play and creative construction are about to take an avant-garde turn with this phenomenal set!
An Opulent Overview
Unveiled in the summer of 2020, this critically-acclaimed LEGO set was meticulously crafted by designer Antica Bracanov, with youthful fashionista fantasies firmly in mind. Across two sprawling floors teeming with intricate detail, fashion enthusiasts can play out their sartorial dreams and indulge in some delightful dress-up.
Showcasing Swanky Specifications
The excellent execution of design is evident in every one of the 343 pieces that comprise this charismatic kit. Measuring a substantial 28.2 x 26.2 x 7.6 cm, it's a sizeable presence fit for any environment – from a bustling home space to a peaceful classroom corner. Weighing in at a sturdy yet manageable 0.53kg, It's as solid as it is stylish.
This marvelous creation boasts not one, but two enchanting mini-figures who occupy a world bursting with creativity and countless fashion accessories. Including shiny textile skirts (a new addition as of June 2020), scissors, and fabrics, there is no shortage of ways to spark imaginative play.
An Immersive Shopping Experience
Just imagine: On the ground level, mini-dolls can enjoy an immersive shopping experience courtesy of an ingenious style spinner that allows them to experiment and personalize their outfits.
Taking the experience up a notch (quite literally), the first floor features an impressively detailed studio. This is where all the magic happens! Be it on the cosy sofa area or at the productive sewing section, creations spring to life amidst a flurry of coffee-fueled creativity.
Beyond Just Play
Being part of the Heartlake City theme allows our little builders to encounter Stephanie, Mia, Emma, Olivia and Andrea and become an integral part of their captivating stories filled with friendship and joy.
A clear sense of direction with comprehensive instructions means your young designers aged six and above will be well equipped to tackle this exciting venture independently!
In conclusion, Emma's Fashion Shop stands as a testament to LEGO's commitment to quality and creativity. Infusing fun-filled role-play opportunities with hands-on building experiences makes it more than just another toy. It's an inspiration for endless adventures in Heartlake City!