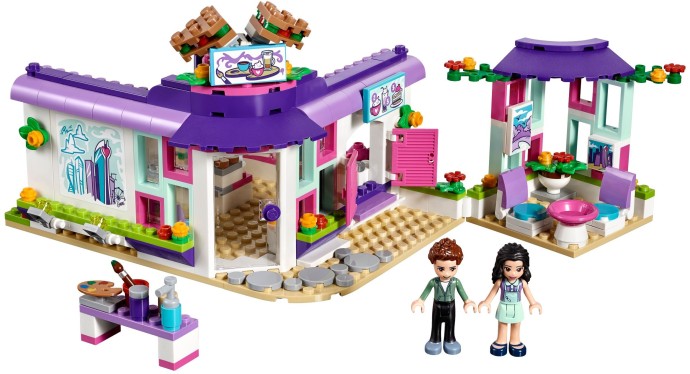 A Closer Look at Emma's Art Café LEGO Set
Inspire creativity and imagination with the LEGO Friends 41336 Emma's Art Café. This set serves as a wonderful playground for aspiring builders, artists, and café enthusiasts. Featuring bespoke details in design, it is an iconic addition to anyone's collection.
A Heartlake City Hotspot
Emma's Art Café is a renowned gathering spot for all citizens of Heartlake City. This LEGO-establishment operates as both a café and a creative hub where people can unwind with tasty treats and ignite their artistic flair. Its jovial façade brandishes a giant panini – a delightful reminder to passersby that not only coffee but some delectable bites are waiting for them inside.
Intricate Interior
Behind the charming exterior lies an intricately designed interior space. The café houses a panini machine, a coffee machine, along with an inviting seating area, making it an idyllic spot for mini-doll figures to enjoy a break. With every detail accounted for, there's even a cash register for upholding the authenticity of the café operation
Outdoor Amenities
No café in Heartlake City is complete without an outdoor sitting space. Emma's Art Café provides that too! It comes with an art area that's adjustable to mimic real-life hinged patios. That's not it! A bench speckled with vivid paint pots awaits the resident graffiti artist who leaves his creations on the city walls.
The Cafe Inhabitants
The set includes two mini-doll figures: Emma and Prankzy. With Emma enjoying her coffee contemplating her next art project, and Prankzy leaving his artistic mark on the city walls – these delightful characters add life to the enchanting world of Heartlake City.
Accessories Galore
The charm of this model doesn't stop at its structure; it's packed with various accessory components to enhance playtime. From cake and cupcakes to paninis, from paint bottles to 'I love Heartlake City' mug – every piece contributes to building an immersive roleplay environment.
Size & Dimensions
Emma's Art Café has quite impressive dimensions measuring over 6" (16cm) high, 7" (19cm) wide and 7" (19cm) deep allowing plenty of room for imaginative play. It's lightweight too! Weighing just 0.6Kg (1.32 lb), it's simple to move around and redesign the setup whenever desired.
An Inviting Escape
Get lost in the bustling life of Heartlake City with Emma's Art Café – a place of creativity, camaraderie and delicious bites served in brick-form! Perfect for kids aged between 6 – 12 years old, however truly enjoyed by LEGO enthusiasts across all age groups.