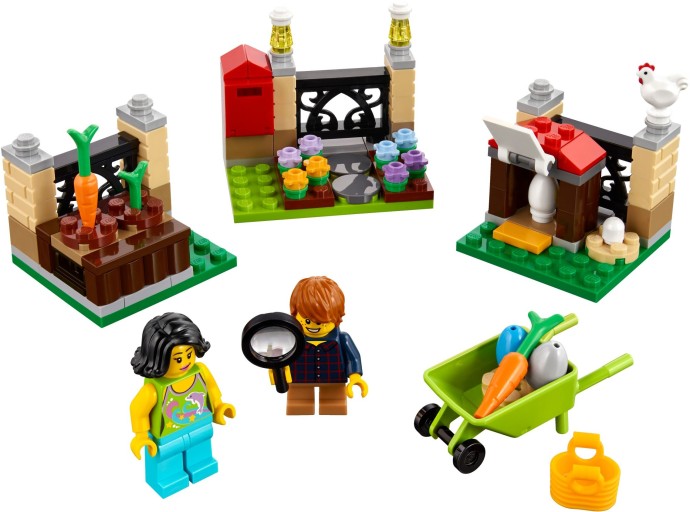 Delight in Festive Fun with the LEGO® Easter Egg Hunt Set!
The joyous occasion of Easter is not just about the scrumptious chocolate eggs and bunny-shaped marshmallows. It's also about a family get-together, creating long-lasting memories, and the timeless custom of the spirited Easter egg hunt. Delving deep into these traditions, Lego® presents set number 40237, aptly named 'The Easter Egg Hunt.' Created by renowned designer Mel Caddick and released in 2017, this seasonal set brings home all the excitement of a classic Easter egg hunt wrapped in a LEGO® box.
A Peek into the Egg-citing World
Embark on a charming adventure with this compact yet surprisingly detailed playset. The beautifully illustrated pieces are fashioned to narrate an engaging story of two minifigures, an adult and a child, on their hunt for hidden Easter eggs. To enhance dramatic appeal, there are three distinct locations, from a henhouse brimming with clucks to a manicured flower garden hosting a mailbox and even an orderly vegetable patch.
Hidden Surprises and Quirky Elements
Tucked away within this delightful set are secret compartments and fun hiding spots that elevate your child's treasure hunt experience. During their conquest for hidden eggs, they will stumble upon diverse buildable nuances such as a practical wheelbarrow, realistic rooster, an interactive magnifying glass, and even a basket to store their acquired treasure.
Spark Imaginative Play
The Lego® Easter Egg Hunt Set is not merely about discovering elusive eggs. With its innovatively designed elements and accessories, it fosters creative thinking. It enables children to decipher mysteries, encourages imaginative play, incites curiosity while also being educational all at once. With every moveable part, there's an opportunity to explore and create new narratives.
Gifting Happiness—Basket by Basket
This meticulously designed LEGO® set makes for an ideal seasonal gift for young LEGO® fans. Launched in February 2017 under the Easter subtheme of the Seasonal series, this durable construction toy offers an attractive price-per-piece ratio making it an affordable addition to your child's collection or as a memorable gift. The recommended age is seven years and up, ensuring safe play for slightly older children too.
Keeping Traditions Alive
The Lego® Easter Egg Hunt Set serves as more than just a captivating plaything. Its compelling design lets children experience the thrill of hunting for Easter eggs throughout the year! By engaging children in this fun-filled pursuit within the safety of their homes, Lego invites young imaginations to revel in rich traditions even when that time of year is months away. Collectively offering an immersive fun-filled experience that preserves time-honoured traditions while promoting cognitive development – certainly more than what meets the eye!