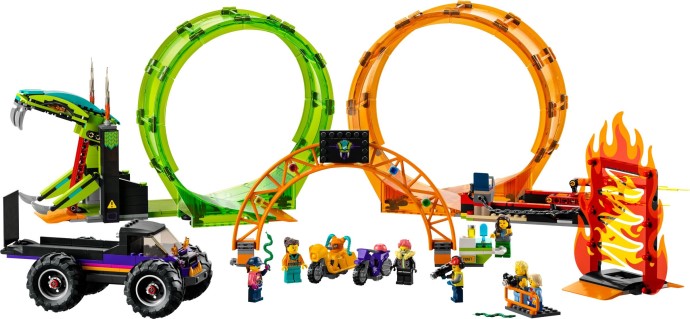 Introducing LEGO City Double Loop Stunt Arena
Hold on tight because the new LEGO City Double Loop Stunt Arena, Set Number 60339, is here to blow you away. This jaw-dropping stunt arena set is not just a mere addition to your collection but a playground that promises to keep the thrill-seekers busy all day. The launch date has been set on 1st of June 2022, especially keeping the summer holidays in mind. With no retirement date fixed yet, it looks like this exceptional playset is going to stick around and keep kids entertained for quite some time.
A Spectacular Addition to the LEGO City Stuntz Subtheme
The marvellous incarnation from LEGO comes under its City theme with an appealing twist of the Stuntz subtheme. When we talk about jaw-dropping stunts and adrenaline-rushing performances, the first thing that comes to mind is a stunt bike or a monster truck. Living up to those expectations, this playset includes two-flywheel powered stunt bikes and a bold monster truck that comes with its own ramp for performing real-life stunts. On top of that, it features an attention-grabbing toy wall of flames, a snapping snake loop, and a loop of fire to provide a realistic touch to your child's stuntman dreams.
Value for Money and Long-lasting Fun
With an impressive number of 598 pieces and 7 minifigures, including two stunt bikers, this set is assuredly value for money at an RRP of £129.99 / $159.99 / 149.99€. Each piece costs around 21.7p or 26.8c or 25.1c separately – quite fair considering the quantity and quality on offer.
A Gift That Keeps on Giving
No matter if it's holiday season or birthday time or just another casual day in your child's life – this action-packed playset never fails as an ideal gift for kids aged 7 years and above. Right from assembly to imaginative play, the whole experience fosters creativity while elevating their building skills to greater heights.
Your Child Is The Star Of The Show!
The LEGO City Double Loop Stunt Arena provides immersive role-play opportunities with its striking vehicle models, inspiring characters and feature-rich structures – keeping your child at the heart of action all along. For expanding the realm of exhilarating motorized adventures even more, this set can be combined with other sets from LEGO City Stuntz range too!
Quality Meets Safety
The offering from LEGO stands testament to its commitment towards delivering quality toys that meet global safety standards. All the components are thoroughly tested and analyzed for potential hazards before making their way into your home – ensuring endless hours of safe building fun since 1958.
In A Nutshell
The dimensions of this thrilling set stand at approximately 58.2 x 37.8 x 8.7 cm (22.9 x 14.9 x 3.4 in) while weighing about 1.47Kg (or approximately 3.24 lb). In other words, it sure packs a punch despite being elegantly compact! So gear up and make way because LEGO City Double Loop Stunt Arena is ready to steal the show.