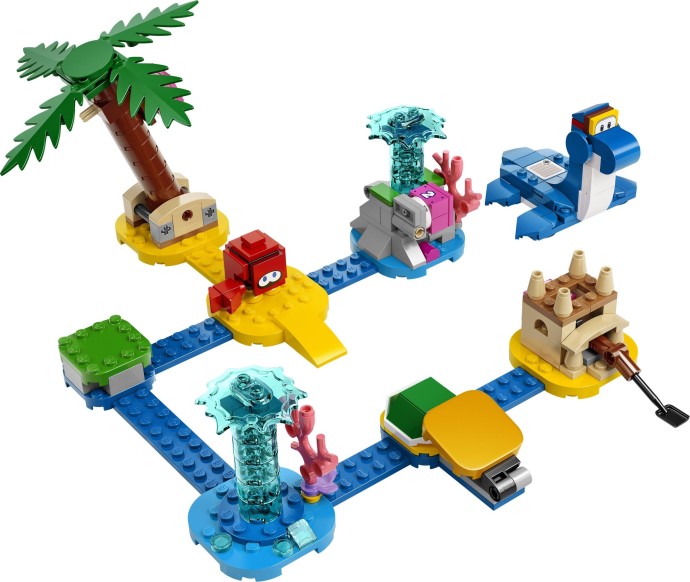 Dive into Adventure with LEGO® Super Mario™ Dorrie's Beachfront Set
Step into a virtual beachy world of Super Mario™ and experience the thrill of a beach quest with LEGO® Super Mario™ Dorrie's Beachfront Expansion Set. A delightful addition to any LEGO® enthusiast's collection, this set offers a vibrant and interactive venture aimed at kids aged 6 and above.
Splash into a Colorful Play World
With 229 meticulously designed pieces, this set is poised to transport young players to a lively beachfront where little Mario or Luigi embarks on thrilling escapades. The playground is peppered with detailed elements including Dorrie the dinosaur, an enemy Huckit Crab figure, coupled with a beautiful sandcastle, water fountain, and tree – each equipped with intriguing functionalities that reveal coveted 1, 2, 3 Blocks. Please note that the set doesn't include LEGO® Mario or Luigi figures which need to be acquired separately.
Battle it Out in Beachfront Challenges
Aiming to provide an engaging playtime experience, this expansion set equips players with neat little gadgets such as a green shell launcher used to thwart the opponent Huckit Crab! The game gets increasingly exciting as you try to uncover the blocks hidden behind the sandcastle, fountain, and tree.
Hours of Endless Fun
Beyond solo exploration, kids would also revel in social competitions and coins-collecting adventures. Imagine having friends around for a head-to-head battle for digital coins or even brainstorming together to rebuild your beach level. Besides fostering interaction and team spirit, this game also encourages creativity as it grants kids absolute freedom to redesign their beachfront universe time and again.
The Perfect Gift for Ingenious Little Minds
If you've been scratching your head over an ideal gift for a trendsetting kiddo who can't have enough of LEGO®, look no further. This whimsical expansion set should make for a perfect surprise! However, do remember that this module works best when paired with the LEGO® Super Mario™ Starter Course (either 71360 or 71387) as it is pivotal for interactive play.
More than Just a Playset
The immersive experience doesn't end here! Check out the LEGO Super Mario app filled with digital instructions alongside creative inspirations that are sure to keep players engrossed. Ensuring nothing short of excellence since its inception in 1958, all LEGO® components continue to meet strict quality standards while adhering to stringent global safety regulations.
Intricately crafted while packing in hours of fun and fostering creativity among youngsters, the Dorrie's Beachfront Expansion Set is an investment worth making!